New SpongeBob Trailer Shows Off All The Game's Voiceover Options
THQNordic has been hard at work bringing SpongeBob SquarePants: Battle for Bikini Bottom – Rehydrated to life, and its latest trailer is full of some seriously sponge worthy shenanigans. The "Languages Are F.U.N." trailer is a great way to hear all the different languages the game will feature so that it can be enjoyed by a variety of players around the world.
So if you've never heard SpongeBob in German, Spanish, French, Italian, Polish, or Japanese, this is your chance. The goofy tone of the trailer sets the stage for the upcoming game perfectly, and you'll be more than ready to try it out once you've seen the game in action.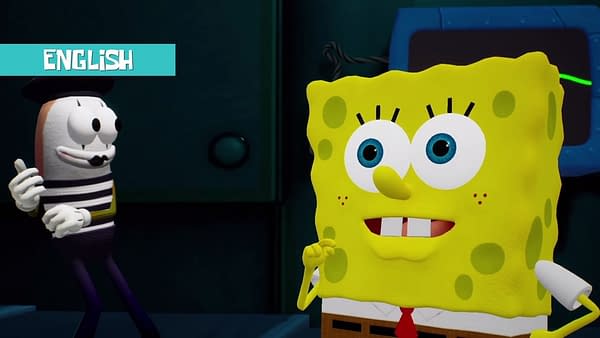 You can check the trailer out in full below, with the same scene played multiple times in different languages to really hammer things home.
But wait, what's this game about, anyway? This language-laden trailer does little to keep you in the loop, after all. Here's the official gist of things, straight from THQNordic themselves:
Are you ready, kids? The cult classic is back, faithfully remade in spongetastic splendor! Play as SpongeBob, Patrick, and Sandy and show the evil Plankton that crime pays even less than Mr. Krabs. Want to save Bikini Bottom from lots of rampant robots with your mighty bubbles? Of course, you do! Want to underpants bungee jump? Why wouldn't you! Want to join forces in a brand new multiplayer mode? The battle is on!
Time to head down to your local pineapple under the sea, right? You can pick up SpongeBob SquarePants: Battle for Bikini Bottom – Rehydrated when it launches on June 23 for Xbox One, PlayStation 4, and PC.