Nintendo Boasts Real-Time Multiplayer Coming To "Mario Kart Tour"
Nintendo announced this week that real-time multiplayer will be coming to Mario Kart Tour, which will kick in on all devices on March 8th, 2020. The new content will come with an update this week, with the new options available starting at 8am PDT on Sunday. These new races will allow you to go neck-and-neck against friends and other Mario Kart Tour players nearby or online. The game is still free to play, so anyone can get in on it. It's just all the bonus content that will cost you money. Here's some more details from Nintendo on the announcement.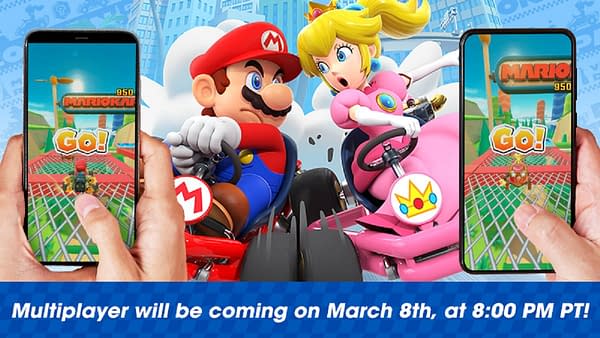 "Mario Kart Tour offers a welcoming and intuitive new spin on the popular series, and now players around the world can get their friends together or challenge others online in fast-paced races from the palm of their hands," said Nick Chavez, Nintendo of America's Senior Vice President of Sales and Marketing. "Through real-time multiplayer, we are giving fans of Mario Kart Tour even more ways to play, and bringing the Mario Kart experience to even more players around the world."

With real-time multiplayer, players can participate in Standard Races to compete against other Mario Kart Tour players around the world based on an ever-changing set of in-game rules. These in-game rules will change daily, meaning the excitement never ends in the race against your rivals around the world. Players can also choose to play with friends or others nearby and create their own set of in-game rules. Finally, in Gold Races, available only to Mario Kart Tour Gold Pass subscribers, players can race at even faster speeds that require advanced kart maneuvers to challenge other competitors.