Nintendo Wants You to Know That Luigi Wasn't Murdered
Nintendo has confirmed that Luigi is, in fact, alive and well, despite the fact that he was clearly murdered during the Super Smash Bros. Ultimate Nintendo Direct yesterday.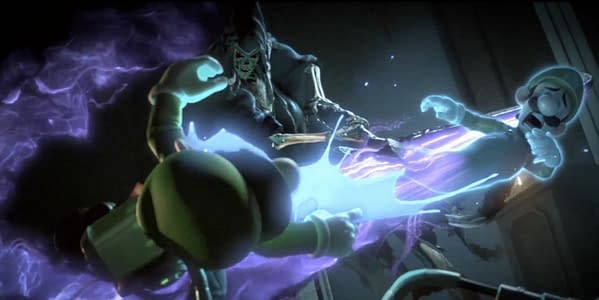 Yesterday we got a neat look at Super Smash Bros. Ultimate, which included a lot of information. Everything from the announcement that there would be over 100 levels in the game to the ability to switch them during a match was neat. There were also several echo fighters and mechanics shown off, filling out the game nicely. We also got the introduction of Castlevania's Simon Belmont and Donkey Kong Country's King K. Rool as fully fledged fighters too.
Perhaps the most surprising development during the Nintendo Direct, though, was when Luigi was exploring Dracula's castle and ended up being straight-up murdered by a grim reaper. His ghost flew out of his body and everything. Later on, he tried to return to his body, but a daunting-looking face stopped him. The feed then ended. This, of course, sent social media wild, with many wondering if Luigi had just been savagely killed in a CG trailer. Not so, it seems. Nintendo's competitive account took to Twitter last night to calm fears, saying:
This is all in good fun obviously. It was a really unique and bizarre video from Nintendo, but one that got everyone talking and sharing, which I'm sure was entirely the point. Also, I have a feeling, without Luigi, Mario's ego would run riot and the Nintendo brand would fall apart. He truly is the rock that holds that whole ship together, I am sure of it.