Nintendo Offers Discounts on Mario Games for Mario Day
Nintendo is going to be celebrating Mario Day next week, and with it, they're offering some special discounts on Mario games to mark the occasion. In case you weren't aware, Mario Day is celebrated on March 10th (Mar10, get it? …Oh, don't give me that look, you probably celebrate Star Wars Day on May 4th, too). So in celebration, the company would like to give you a chance to play a Mario game on the cheap. The five games being offered up are Super Mario Odyssey, Super Mario Party, Mario Kart 8 Deluxe, Mario Tennis Aces, and New Super Mario Bros. U Deluxe.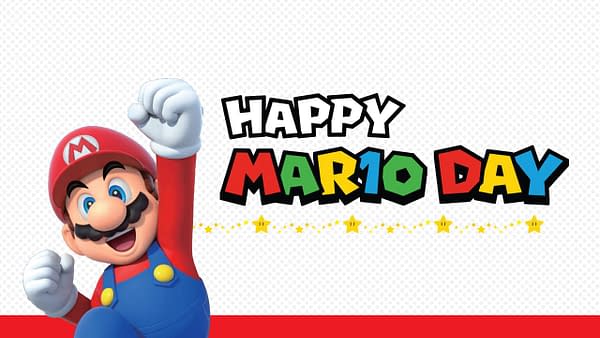 Between March 10th-16th, all of those games will be sold in participating retail stores and on the eShop for only $40, taking $20 off the usual price. However, if you get the urge to buy a Nintendo Switch that week, and pair it with one of those games, you will get the game at only $30 for a 50% discount on the game. So your Switch and game would cost about $330 total. The company is also offering some additional promotional items from the eShop using their points, which we have details on below. Have fun celebrating Nintendo's holiday all next week!
In addition to the Nintendo Switch promotion, fans can also redeem their My Nintendo points for some cool rewards inspired by everyone's favorite ground-stomping superstar from the Mushroom Kingdom. To celebrate Mario's big day, My Nintendo is offering a March calendar and Mario Day wallpapers. To encourage folks to throw a Mario Day party of their own, Mario-themed invites and bingo cards are also available, as well as themed envelopes perfect for holding Nintendo eShop Cards – they make great party gifts! For more information about all the available My Nintendo rewards, visit https://my.nintendo.com/news/497ab609320d0e9d.