Nintendo Reveals The "Ring Fit" And More At Tokyo Game Show
Nintendo did their big reveal during Tokyo Game Show 2019 this week as they showed off the new Ring Fit and accompanying game Ring Fit Adventure. The company revealed the new exercise tool utilizing a special rubber ring and leg strap developed to work with the joy-cons of the Nintendo Switch, along with the game you will play. The game will have several modes of workout that will challenge you in different ways, or give you the kind of workout you're looking for in your daily routine. It even has a silent mode for those who live in apartments or close-quarters as to not disturb the neighbors. The entire unit and accompanying game will be released on October 18th for $80. You can read more from the press release below, as well as check out photos and the introduction video.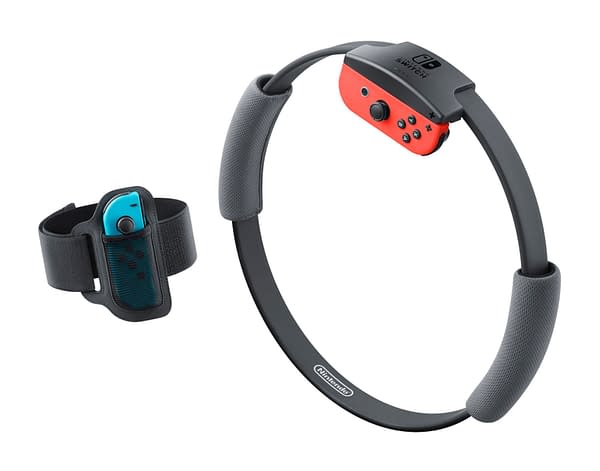 In the Ring Fit Adventure game, players explore an expansive world, battling enemies along the way using real-life exercises to perform in-game attacks. The new Ring-Con and Leg Strap accessories that are included with the game respond to the player's real-world movements, allowing the game to turn them into in-game actions, like jogging in place to move your character through the world using the attached Leg Strap, or squeezing the Ring-Con and turning that strength exercise into powerful attacks. By playing the game daily, players can regularly work out various parts of their bodies. With additional mini-games and workout routines, Ring Fit Adventure is a fun experience for players of various skill levels and lifestyles
"Nintendo is always looking for ways to surprise people with one-of-a-kind, fresh experiences," said Nick Chavez, Nintendo of America's Senior Vice President of Sales and Marketing. "Ring Fit Adventure combines gaming and physical activity in a way that incentivizes people to keep coming back for more, to further both the story and their own fitness goals."

The Adventure mode featured in Ring Fit Adventure takes place across 20 different colorful worlds in a quest to take down Dragaux, a giant, chiseled dragon with an ego to match his oversized muscles. Jog, sprint and do knee-highs in real life to travel through the world, and use the Ring-Con accessory to perform different in-game actions, like jumping, hovering in mid-air or steering a raft on a river.