Nintendo Shows Off Multiplayer Options In "Dr. Mario World"
Dr. Mario World will be coming out on iOS and Android devices on July 10th, but before that, Nintendo decided to show off what multiplayer will look like. The game will work a little bit like Tetris as when you clear viruses from our field, an attack bar will fill and viruses will be headed their way. We can also see that they have changed the game up a bit as brick blocks can appear in the jar, as well as a new virus in the color green. Also, depending on the doctor who choose in the game, you'll get special abilities to help you clear rows and deal damage to your opponent's jar. Enjoy the info below and the trailer before the game comes out next week.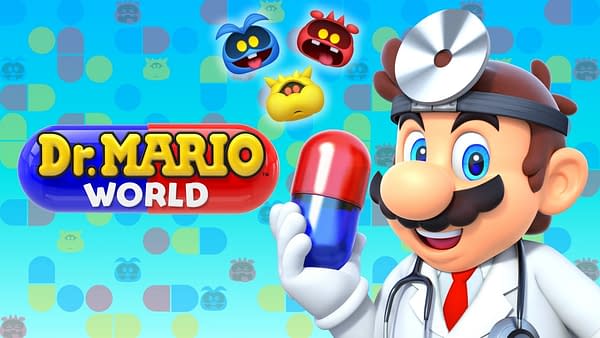 ■ Use your puzzle skills to eliminate pesky viruses!

• Match capsules with viruses and watch them disappear! Simply match three objects of the same color vertically or horizontally to clear them.
• Luckily, Dr. Mario and friends have virus-busting skills, and you can use leftover half-capsules to strategically zero in on especially meddlesome viruses.
• Take your time, because each puzzling configuration of viruses must be cleared using a limited number of capsules. Keep calm to plan your approach, and you'll rid Dr. Mario's world of viruses in no time!

■ Paging Dr. Mario!

• A colorful cast of viruses has Dr. Mario's world in a panic! Dr. Mario and friends have put on lab coats and grabbed capsules! Now they're ready to eliminate those unruly viruses.
• Dr. Mario isn't the only one on call—Dr. Peach, Dr. Bowser, and others are on duty. Staff up with assistants like Goomba, Koopa Troopa, and Buzzy Beetle to help your doctors out with additional skills.
• Doctors and assistants have various virus-busting skills, so experiment to find a combination that suits your style and pace.
• Hundreds of stages over many different worlds are ready for you to save! New worlds, new doctors, and more will be delivered on a regular basis.

■ Play together with friends and family around the world!

• You're not in this alone—send and receive stamina-giving hearts to use in stage mode! Then, show off your puzzle-solving progress.
• In versus mode, you can turn up the intensity on your virus-busting by challenging others to a one-on-one showdown—without using hearts!
• Find the right combo of doctor and assistants and aim for victory online to earn battle points and increase your tier!