No Man's Sky Getting Free "Eerier" Content Update Next Week
Hello Games announced that it's releasing free No Man's Sky cotent next week focused on the more spooky.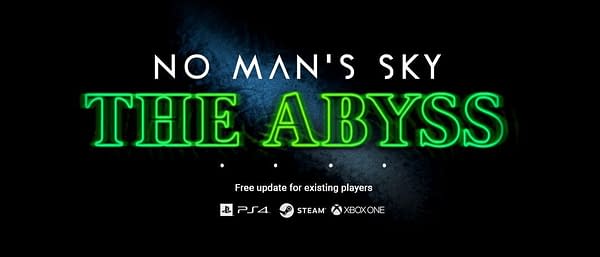 No Man's Sky's seen great resurgence of late thanks to its big free Next update earlier this summer. Public opinion on the title's improved compared to launch and the game has a bright future ahead of itself. Since that controversial launch, the game's seen more and more slowly added, the entire expeirence feeling more complete nowadays.
We are already due our next big free update too. In a blog post, Hello Games revealed new content from the game called The Abyss. There aren't many details about the content, but to fit Halloween, it's set to be more on the spooky side. The Abyss will land on at somepoint next week. In the post, Hello Games said:
A new free update is releasing next week for all players. We've called it The Abyss, because it focuses on some of the eerier elements of No Man's Sky, in keeping with the theme of this season.
As for what to expect or even an exact date we don't quite know. All we have is the Stranger Things looking logoin the post, but that doesn't tell us much. I do see value in the idea of players coming into spooky No Man's Sky content blind though. Hopefully there is a good sense of dread to come. I fell that could go a long way in the infinite universe of the game. If we hear any more specifics, we will be sure to share them.