No More Robots posted a brand new trailer and announcement for their upcoming political satire indie game, Not Tonight. The game takes a look at an alternative London after the post-Brexit era has taken effect, and nothing about it look pleasant. Basically, it appears like you'll be checking everyone's ID and dealing with the fallout of a society that didn't want people in their society or to be a part of a bigger society. You can check out the game's description and trailer here, as we wait for the game to be released across multiple platforms on August 17th.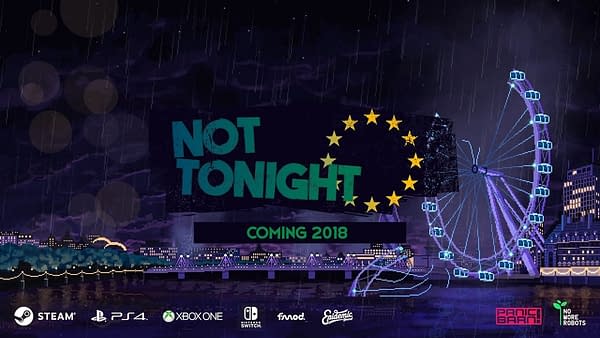 This PanicBarn-developed management sim takes place in a dystopian Britain, where Brexit talks have collapsed and an extreme far-right government has taken power.

Citizens of European heritage have been rounded up and exiled. Forced out of your previous life, you find yourself in the midst of a frantic gig economy, manning the doors of pubs, clubs, festivals and parties, and fighting to scrape by and return to the city you call home.

Not Tonight is a post-Brexit management game, fusing a time-pressure RPG with a tale of dark humour where every decision matters. Will you join the resistance and fight the regime — or keep your head down and hope that one day this will all be a distant memory?
Enjoyed this article? Share it!