Numskull Is Celebrating Pac-Man's 40th With New Merchandise
It's hard to believe that Pac-Man is 40. The iconic and popular video game has been entertaining millions of people around the world and continues to find new fans every day. Pac-Man can be found in a number of things — from pinball machines, to consoles games, and of course the legendary arcade machine. But Pac-Man also lends himself nicely to all kinds of merchandise! Numskull and Bandai Namco have teamed up to release a number of fun items to commemorate Pac-Man's 40th. There's a little bit of everything for everyone here! Plus, prices are considerably affordable for such a fun, commemorative line.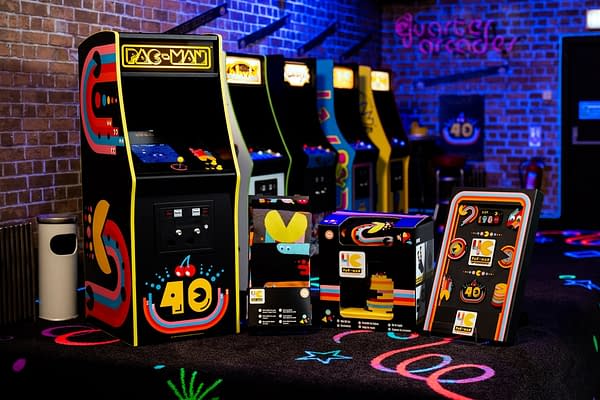 40th Anniversary Gift Set: $16.99
This awesome set comes with a pair of socks, a mug, and a spinner keyring. Encased in a charming black box with colors reminiscent of the game, this affordable gift set is perfect for every Pac-Man fan in your life!
40th Anniversary Sock Set: $14.99
Yet another affordable, and useable, Pac-Man 40th gift. This pack comes with three socks depicting the popular characters in various settings. My personal favorite pair is the sock that says 1980 on it. These are whimsical and absolutely adorable!
40th Anniversary Pin Set: $24.99
This awesome pin set was designed by Numskull, and is perfect for every Pac-Man fan! These eye-catching pins will absolutely be a conversation piece. Keep them displayed on this awesome retro card, or wear these pins proudly on your favorite bag, jacket, or lanyard. The entire collection is retro, fun, and downright rad. I wish I had the money to buy it all! Head over to Numskull to see the rest of their Pac-Man offerings — and to see what else they have available! You may find something new for your home, or for a friend's home! Have another Pac-Man item we absolutely can't miss? Let us know in the comments below!