Do You Miss WWE's Attitude Era? You Should Watch NJPW [Opinion]
I've been preaching about New Japan Pro Wrestling (NJPW) for the past few years now, and I keep getting asked by fellow wrestling fans why they should watch it. Time and time again I hear people complain about how they can't stand WWE's current programming. They hate the writing, they hate the direction characters they love are taking, they hate the waste of talent after they get to the main roster from NXT, they hate the G-Rating, they hate the endless cycle of poor planning — the list goes on.
They want an alternative, but for some reason, they don't like ROH, Impact, Lucha Underground, or PWG. So they turn to me and ask "What makes NJPW so good these days?" My best argument for those fans is that if you miss the old Attitude Era and the stuff WWF/E was doing at the time, you'll find it in NJPW. Here's a quick and handy guide that may make you wish to check out their service, or at the very least, seek out some videos. Great Wrestling
Let's address something that gets overlooked these days, and that's the actual wrestling. Max Landis put together a great video explaining how wrestling isn't wrestling, and to a degree he's right. However, if the only thing you ever tuned in to watch on Monday nights was seeing people speak into microphones at each other, then I have to ask: Why aren't you using your cable subscription money to go see a real-life play every week? The truth is, if you're a wrestling fan, you come for the complete package. At some level, even though it's pre-determined, you like to see people beating the living shit out of other people in the most extravagant way possible. So if you're going to do that, why not see it done the best way possible?
NJPW has a specific way of doing things called Strong Style. And before it was marketed as Shinsuke Nakamura's best-selling feature, it was and still is how Japanese wrestlers usually perform. The chops are harder, the kicks are harder, the slaps are harder. (Yes, slaps.) Strong Style is a stiffer way of performing to make it look and sound worse. The price they pay for that — a lot of those hits hurt for real. Don't get me wrong, it takes a ton of athleticism and endurance to pull that kind of stuff off in any promotion. But you need to be built of stronger stuff to cut it in Japan, and the bloodied chests and taped-up knees prove how real and hard it can be.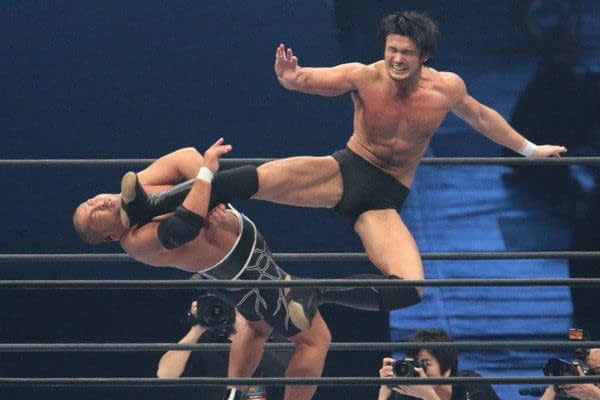 Relatable People and Personalities
Need someone to get behind? The company has an entire roster of people who are appealing and appalling like any promotion. Right now the current IWGP Champion (as we write this) is Kenny Omega, a former lightweight who after failing to make it big, split from his friend Kota Ibushi to join a heel faction, and scored almost every singles title in the company over the next two years, eventually becoming champion by defeating the longest reigning champion of the company's modern age in Kazuchika Okada. Okada himself is NJPW's version of The Rock in many ways, calling himself The Rainmaker because he helped make the company so much money in recent years.
How about Tetsuya Naito, a babyface who was rejected by the crowd, left to go on an excursion, and came back as a skilled jackass who doesn't care about anyone but himself, becoming successful doing so? Do you want humor with your serious wrestling? There's Toru Yano (seen below), who is referred to as the "sublime master thief" and cheats to get victories while also marketing his DVDs. Want a serious badass who doesn't care for nonsense? There's Tomohiro Ishii, who goes out there every night to show you he's one of the hardest strikers who can take punishment. There's essentially a character for pretty much everyone at some level, and we could spend hours going into all of them for you. But we find it best if you discover some people on your own.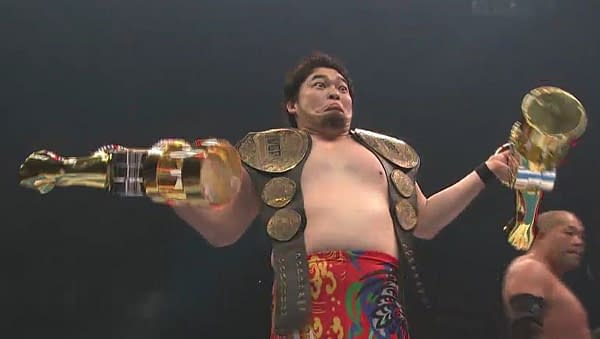 Stables Galore
Remember back when practically everyone except Stone Cold Steve Austin was in a faction? That currently exists in NJPW. The biggest and most well known right now is Bullet Club, which if you have no idea what that is by now with the inclusion of AJ Styles, Doc Gallows, Karl Anderson, Adam Cole, and founder Finn Balor, not to mention the hundreds of BC shirts on WWE TV, then you're seriously out of the loop. But they're not alone. There's a whole heel-ish faction called Chaos that was founded by Nakamura before he left. Another called Suzuki Gun founded by legendary MMA fighter/wrestler Minoru Suzuki. There's one full of people who just like having fun called Taguchi Japan formed by Ryusuke Taguchi. The most popular at the moment in Japan based on current merch sales is Los Ingobernables de Japon formed by Naito.
Basically, if you want a group to get behind, you have several to choose from.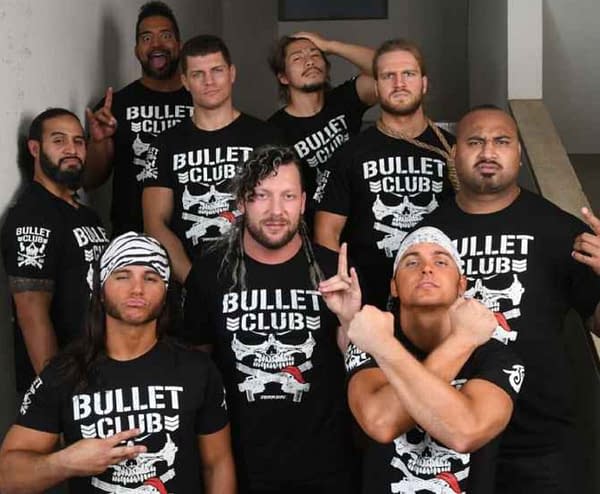 There's a Damn Good Juniors Division
You would know the Juniors division in NJPW as the Light-Weight or Cruiserweight division in other companies. Unlike other companies, this one is on fire with people who are allowed to take greater risks. Sometimes to their own detriment, like how current Junior Heavyweight Champion, Hiromu Takahashi, broke his neck at the G1 special in San Francisco earlier this month. That being said, these matches are often the most entertaining on the card because these guys are willing to take risks with all sorts of objects in and out of the ring to get an amazing experience for the crowd. If you enjoy the Cruiserweight division in WWE, you need to watch matches with Takahashi, Will Ospreay, Kushida, Marty Scurll, and Bushi to name a few.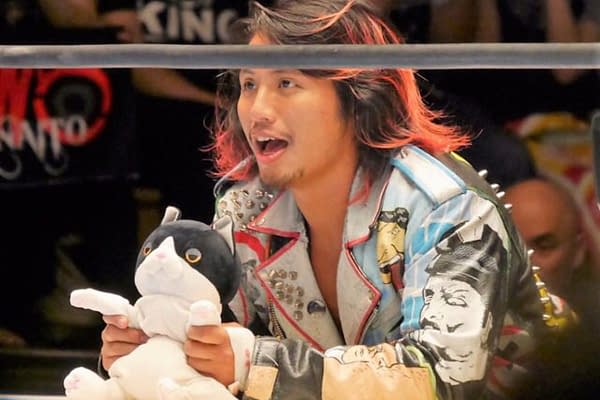 Storytelling That Makes Sense
One of the biggest annoyances we have with modern day WWE is that they have too many promos that end up leading to nowhere and scripted works that never feel justified. How many times have you watched and thought "Why is this person doing this? What's their motivation?" In NJPW, storytelling is mostly done in the ring with few promos ever given in the ring before the end of the night, and the majority of their promo work is done at press conferences. (We'll get to that in a second.)
When you see a story play out in NJPW, the bulk of it is done through the sights and sounds in and around the ring. Their promo work is making fun of or chewing out their opponent as they lay in the hits. We don't need a 15-minute promo to know why Naito wants a shot at the IWGP Championship. Everyone wants a shot at it! His quest to getting there is told in the ring through wins and losses, from actions and reactions to battle scars and taped limbs. And when a story is finished, people move onto the next story and the next challenge.
There's no drawn-out drama over whether someone is a backstabber, because they already stabbed you in the back. There are no "this is your life" promos to tear you down, because no one there gives a fuck about your life before you got there. There's no commissioner telling them they need to fight to get a shot at the title because EVERYONE IS ALREADY FIGHTING TO GET A SHOT AT THE TITLE. A good story doesn't need explanation — it just needs to happen.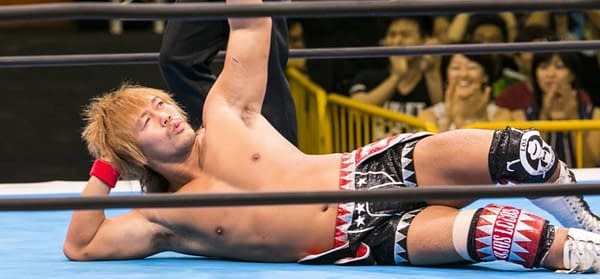 Swearing
Do you miss cursing in wrestling? Remember when Austin use to flip everyone the bird and The Rock called everyone a candyass? Well, that's here in NJPW, too. You don't hear it a lot, but when you do, it's uncensored and in two languages. Here's a fine example, as this is the first in a series of videos called "NJPW is Not For Kids".
https://www.youtube.com/watch?v=SZxDqLH74AI
A Sense of Realism
Here's a nice change of pace for you: In Japan, wrestling is treated like a real sport. The media and sports press cover it and interview people the same as how others cover the NFL, NHL, MLB, NBA, and more. They recognize the athletics required to pull it off and give these people the same respect you would LeBron James after a game.
When you treat something like a sport, it becomes a sport, regardless of what some may think of it in the long run. The fact that professional wrestling is respected in the country enough to where these people are as big as major stars were back in the day in WWF/E is a testament to how hard they work and how much love the fans have for it.
If you're still one of those stingy nitpickers who love to scream about how it's not a sport if it's pre-determined, nothing myself or anyone else can say to you will change your mind. But for the wrestling fans, please know, there is a place that treats it with a moniker of respect.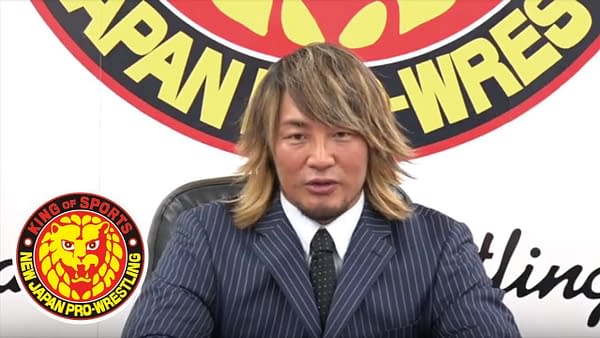 Language is Not a Barrier
If you're one of those people sitting around thinking "I can't speak a lick of Japanese or read Kanji," that's fine. NJPW went to great lengths to make sure North American and European audiences could get the best out of the show. The main commentary team is currently made up of Kevin Kelly (a former WWF/E announcer) and Don Callis (who you may remember as The Jackal from WWF and Cyrus the Virus from ECW). Rocky Romero occasionally joins the team as well, and for those moments when it's absolutely necessary, there is a translator who sits in on commentary for interviews.
Knowing Japanese helps so you get the full effect, but it's not a roadblock. And hey, listening to the passion in the Japanese commentary on occasion is great. Especially when they scream "Lariato!"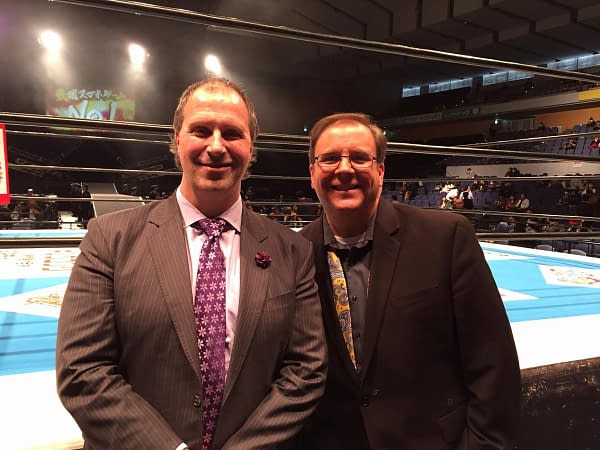 Putting Your Money Where it Matters
One of the most recent controversies to hit Twitter was when Hulk Hogan was put back into the WWE Hall of Fame after being kicked out for racist remarks three years prior. People were not happy that Hogan basically came back just to warn talent about what they say and where they say it, rather than apologizing for being a racist. (Go back and listen to the audio; you don't say that kind of garbage on a whim.) In response, many showed they were unsubscribing from the WWE Network on Twitter. If you're a diehard wrestling fan, there's another place to put that money.
NJPW launched a streaming service called NJPW World where they broadcast all of their events and matches, as well as a library of previous events to check out, the majority of them with alternative commentaries. And it's the same price as WWE's service. You know how you can't watch WWE Raw and SmackDown on the Network? Or how certain matches and PPV events are censored depending on who is there and when it happened? Imagine if all that wasn't true about a different company. That's NJPW World. Now all of that being said, NJPW isn't covered in gold. The company has flaws like any other. First, there aren't many live events that come to North America or Europe, and when they do, it's on a coast. Second, there are no women wrestlers in the company. In Japan, women's wrestling has its own promotions like Stardom and Pro Wrestling Wave (where they often will hit harder than the men). There's a lot of cross-promotion, which means sometimes your favorites are gone for periods of time to work someplace else, like how the current IWGP Tag Team Champions The Young Bucks are currently running more shows with ROH while the G1 is currently happening.
Speaking of, if you're looking for a good time to jump in, now is one of the best times to do so as the G1 Climax is currently happening. We're about halfway through the round-robin tournament where two blocks of 10 men face everyone in their block. A win is 2 points, a draw is 1 point, a loss is 0 points. The two men with the highest totals at the end of each block go onto a semifinals match, and the winner of each block then battle for a shot at the champion at Wrestle Kingdom (their WrestleMania) in January. The next evening of matches happens tonight at around 2:30 a.m. PDT if you want to watch it live, or see a replay of it later when you wake up.
The greatest thing to show a company you don't like what they're doing is to vote with your dollar. If you don't like where WWE is, or if you just wish they were doing something more adult and serious, you have an alternative that's now more accessible than ever. Stop bitching and moaning on Twitter to an old man who has been quoted and reported as not reading social media or listening to your complaints, and go enjoy something they're not making for a change.