Pebble Beach Has Officially Been Added To PGA Tour 2K23
You can now try your hand at one of the most well-known golf courses around in PGA Tour 2K23 as Pebble Beach is now available.
---
2K Games has added one of the most famous golf courses to PGA Tour 2K23, as players can now take a swing at Pebble Beach. The latest update to the game since the last patch (which we have notes for you below) brings out the famous California-based course for you to play on to coincide with the AT&T Pebble Beach Pro-Am happening this weekend. The update is free and comes with the chance to play in an online series right now.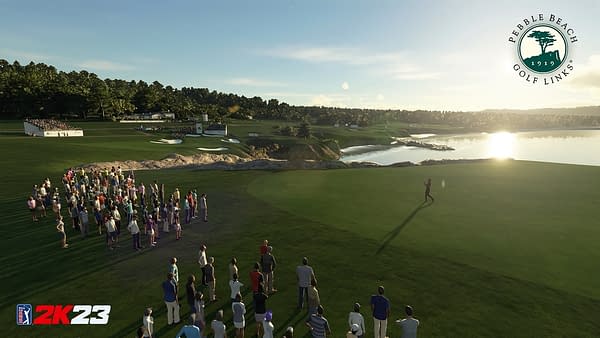 "Just in time for the annual AT&T Pebble Beach Pro-Am, the No. 1 public course in the US is making its way to PGA Tour 2K23. Pebble Beach Golf Links, one of golf's most iconic courses, will be available free to all PGA Tour 2K23 players starting today. Boasting spectacular views of the sea meeting the land over the Pacific Ocean, players will test their skill as they take on the smallest greens on the PGA Tour. To celebrate the new addition, players can take part in the eSeries event at Pebble Beach in the official PGA Tour 2K Society tomorrow through Sunday, February 5."
PGA Tour 2K23 Patch 1.06
Hi fellow duffers, Patch 1.06 is now live and includes new content, as well as gameplay and stability improvements. See you all on the virtual links!
Course Designer
Added a "Clear Auto Rough Tool" which can be used to remove auto generated rough surfaces to reveal the surfaces underneath. The tool uses all standard brush types and has an opacity toggle which affects the strength of the tools impact on the surface when used.
Added Winter Theme as well as winter themed Course Designer assets.
MyPLAYER
Added support for Winter themed content and gear, coming soon
MyCAREER
Torrey Pines (North & South Courses) / Farmers Insurance Open added to the MyCAREER schedule
Online Multiplayer
Addressed reported concerns related to loss of controller functionality when immediately cancelling a search in Matchmaking
Addressed reported concerns regarding a possible crash when the system enters rest mode during a search in Matchmaking
Addressed reported concerns related to players being unable to utilize Matchmaking to join 2v2 multiplayer matches
General
Made multiple improvements to stability and performance
Addressed reported concerns related to Club appearance reverting to default after using the "Apply to Set" function for shafts or grips in the Golf Bag.
Addressed reported concerns related to the Help panel displaying non-functional button prompts during Swing Calibration