PHOGS Has Been Delayed But A Demo Will Be Available
A little bit of mixed news from Coatsink today as they've had to delay their upcoming game PHOGS, but there's now a demo you can try. The bad news is that the game will not be released this month and is being pushed back to later this year. Most likely due to what all studios are going through having to work from home as they finish their games remotely. However, the company has made a demo of it to play as part of Steam's Summer Game Festival starting on June 9th, 2020. We tried this game out back at one of the PAX events and instantly fell in love with it. The co-op is fun to play, even when you mess up, so we highly recommend checking it out as long as you can. You can read more about the game below and see some gameplay footage!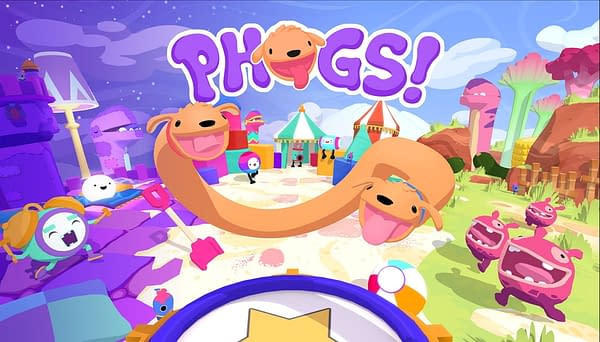 In PHOGS you play as a duo of dogs on a captivating, puzzle-filled adventure. Linked by a stretchy belly, you'll need to bark, bite and bounce your way through obstacles set across the themed worlds of Food, Sleep and Play, in co-op or single-player. Stretch, bark and bounce your way through obstacles and challenges across three vibrant worlds, filled with hilarious physics-based gameplay and sneaky secrets.

Red and Blue are the goodest of doggos who will accompany you through your entire fun-filled adventure.
Linked by a stretchy belly, your Phogs are inseparable… for better or worse!
Explore 24 fantastical levels stuffed with exciting challenges and creatures to play with
Forage through Food World, teeming with tasty treats. From hot buttered toast to chopped celery… even a river of chocolate!
Stroll through Sleep World, complete with teddy bears, cushions and quilts, all nestled in the glow of the soothing night-light.
Pounce through the crazy toybox of Play World, exploring a beach amusement park, a retro arcade, and everything in between. Woof!