Pinball FX Reveals Gearbox Pinball Collection Based On Several Games
Pinball FX will be getting a new expansion pack called the Gearbox Pinball Collection, featuring titles based on Gearbox franchises.
---
Zen Studios has partnered with Gearbox Publishing to release the Gearbox Pinball Collection for their hit title Pinball FX. The collection will be three separate games, each one taking the theme of an IP owned by the company, as you'll have games based on Borderlands, Homeworld, and Brothers In Arms. All of them have different themes and settings going for them, so it's not just three copycat titles with a different style pasted on top; all of them present new ways to play as you attempt to rack up the highest score. We got a video and more info below showing them off as you can buy the pack in early February 2023.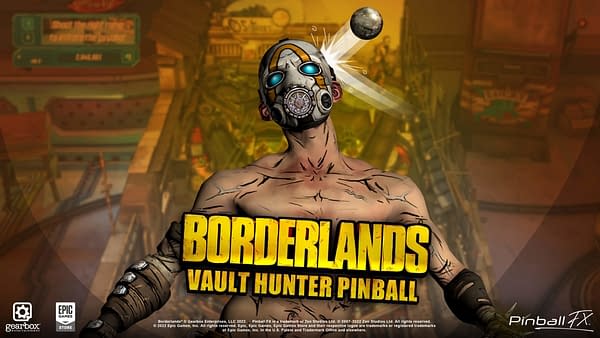 "Gearbox Pinball will be available for $14.99 as a three-pack or as part of Pinball FX's monthly Pinball Pass subscription, along with more than 70 other tables at launch. Homeworld: Journey to Hiigara Pinball is the only one of the three tables currently playable via Pinball FX early access through the Epic Games Store."
Borderlands: Vault Hunter Pinball: One of today's most popular first-person shooters is now a pinball game full of hootin', lootin', and jackpot shootin'! As a Vault Hunter searching for the biggest prize of your life, take out any Psychos, Skags, and Bosses that stand in your way.
Brothers in Arms: Win the War Pinball: Stick close to your brothers as you complete missions and liberate towns within France and the Netherlands – now armed with a silver ball and your skills. Help SSgt Matthew Baker and the 101st Airborne in day and nighttime missions and claim your place on the leaderboards.
Homeworld: Journey to Hiigara Pinball: Use your skills to strategize, build up your fleet, and carry out missions. Fight in huge space battles inspired by the Homeworld games, and use your armada to great effect as you earn jackpots and the high score.