Pokémon GO Fest 2020 Teaser Hints At Generation Six
Along with a new video promoting their first-ever at-home edition of Pokémon GO Fest, Niantic Labs, Inc. has released a teaser image for the event. Now, there's a lot going on here in this George Perez-esque artwork, packed to the brim with Pokémon, trainers, and Team Go Rocket villains. Let's take a closer look and break down the secrets Niantic is hiding in plain sight.
Five Things You May Have Missed in Pokémon GO's New Teaser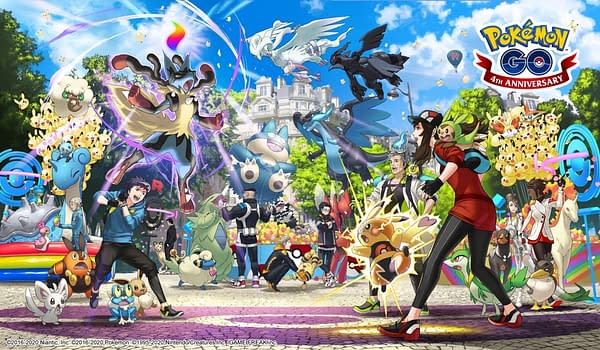 1. Mega Evolution
Pictured front and center here are three Pokémon in their Mega Evolved forms: Lucario, Mewtwo Y, and Charizard X. While this image confirms Mega Evolution is in the near future for Pokémon GO, what remains to be seen is how the mechanic will be applied in-game. The main series of games have the feature happen during battle only, but Niantic has historically released Pokémon with different forms as completely different Pokémon. The major examples are Giratina and Deoxys, who have two and four forms respectively. One must catch each form individually in Pokémon GO to complete their Pokédex. Rather than allowing these Pokémon to shift between their various forms, in Pokémon GO, they are locked to the form in which they were caught.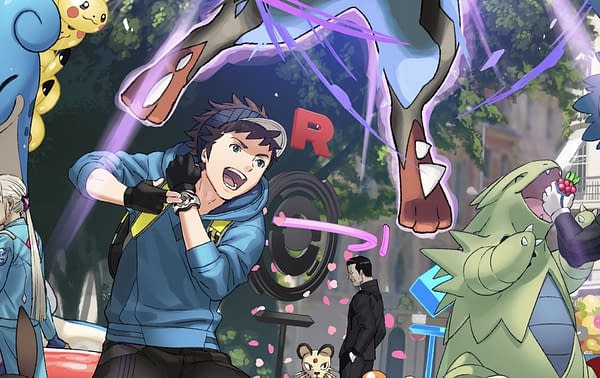 A small detail in this image suggests that Niantic may do things differently with Mega Evolution. The trainer who is battling using Mega Lucario is pushing a watch-like device attached to his wrist, suggesting he is enabling Lucario's evolution. It remains to be seen how this will be applied practically and if it will come out at Pokémon GO Fest 2020, but however this new mechanic is applied, it will be game-changing.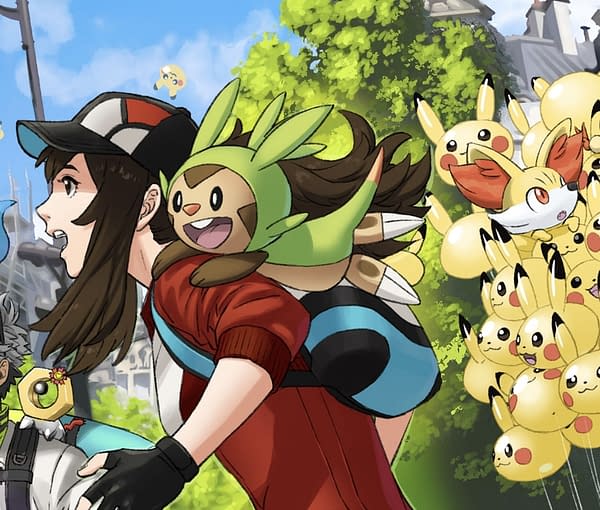 2. Generation Six
Pokémon GO has historically released new generations of Pokémon during the fall of each year. However, the rollout of the fifth generation, which introduced Pokémon from the Unova region, has been slower than the previous four generations. Players have speculated that this was a result of both Niantic attempting to prolong the game, as well as fall-out from the game-changing due to COVID-19.
In a surprising tease, though, Niantic included the Generation Six starters in today's release of this teaser image. Chespin, Fennekin, and Froakie are featured prominently in the artwork, hinting that Pokémon from the Kalos region may be coming sooner than expected… perhaps even as soon as Pokémon GO Fest 2020.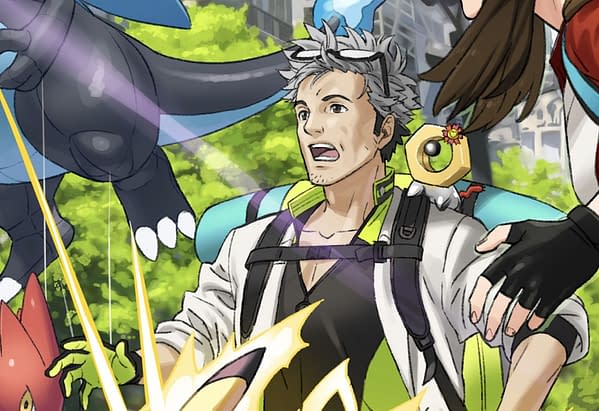 3. Shiny Meltan Returns?
Meltan is unique among the Pocket Monsters you can obtain in Pokémon GO for a host of reasons. Unlike other wild catches, it can only be caught by completing Special Research assignments or connecting your phone to a Nintendo Switch while playing Pokémon Let's Go. It is also unique in that it is the only current Pokémon whose shiny version has been removed from the game. There is currently no way to obtain Meltan in its shiny form, making this mythical Pokémon's shiny one of the rarest, most sought-after creatures.
Meltan's appearance in this image suggests that it will return to prominence. This doesn't necessarily mean that it's shiny will return, though. Other possibilities could include a release into the wild, making the Pokémon finally obtainable for those without a Nintendo Switch.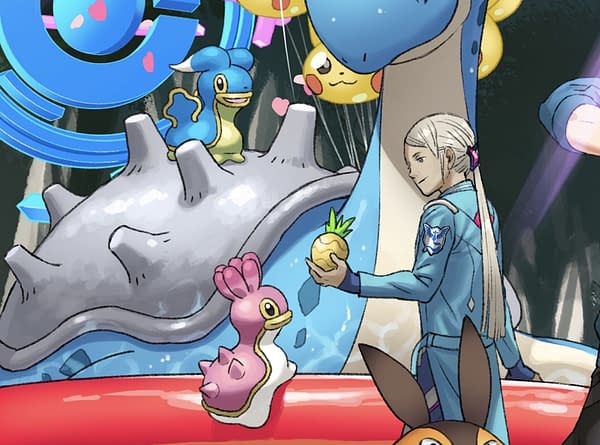 4. Pokémon GO Fest 2020 Regionals: Shellos
Go Fest and Safari Zone events have always featured region-locked Pokémon switching locations, so that players can have a chance to catch these Pocket Monsters that would normally not appear in their locations. With Go Fest going remote, though, Niantic has to showcase regionals that will appeal to trainers all over the world. From the image above, it appears their answer is both variants of Shellos.
Shellos's two versions, blue and pink, have been split at the Prime Meridian. Those west of the Meridian have been able to catch the pink variant, while those on the east are able to catch blue Shellos. Featuring both versions in the same space in this teaser image suggest that this may be the spotlight regional of Go Fest.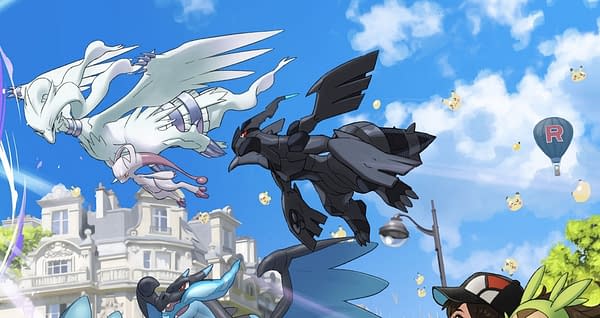 5. Reshiram and Zekrom Return
Generation Five legendary dragons Reshiram and Zekrom were introduced just last month, but many players were unable to attain these powerful Pokémon due to quarantine restrictions. Niantic has announced that the ability for trainers to remotely invite friends to raids is coming soon, and that players will get another chance at Reshiram.
With Zekrom, pictured next to Reshiram above, scheduled to leave legendary raids tomorrow, the focus on these two hints at a return. Often when Pokémon return after a long stint as raid boss, they do so with a newly released shiny form. Could Shiny Reshiram and Zekrom be on the horizon for Pokémon GO? It looks like we'll know soon.
It remains to be seen of all of these new features will roll out at Go Fest, or if this image is a teaser of things to come in the future beyond even the event. Either way, it is clear that Niantic has big plans for Pokémon GO Fest 2020 and the future beyond the event.