Pokémon TCG Japan: Scarlet Ex Preview: Penny Special Art Rare
Pokémon TCG Japan: Scarlet ex does away with Rainbow Rares, delivering unique Special Art Rares for not only Pokémon but Trainers too.
---
It's time for a new era. Pokémon TCG Japan has released two sets that kick off Generation Nine and bring Paldean Pokémon and Trainers to the Pokémon TCG for the first time. These two sister sets are Scarlet ex and Violet ex. These sets and as well as three 60-card Starter Set ex decks will be the basis of the English-language set Scarlet & Violet base coming out internationally on March 31, 2023. Starting with these sets, English-language versions of the sets will now more closely mirror Japanese expansions, using silver borders and set codes instead of set symbols. Scarlet ex and Violet ex also see the return of the original lowercase ex card type as well as the debut of the Terastal ex card type that will replace Vs and VMAX as Ultra Rares. We also now know that Illustrator Rares and Special Illustrator Rares, a card type that debuted in Crown Zenith, will return with this set, with ex cards being the mechanic we'll see depicted. Today, we take a look at another Special Art Rare (called Special Illustration Rare in English) from Scarlet ex.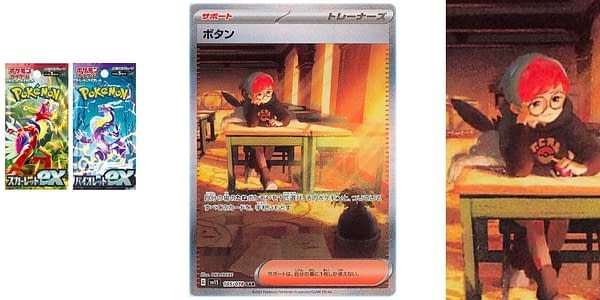 Like Pokémon, Trainers are getting both Full Arts and Special Art Rares in the Scarlet & Violet era sets. Japanese sets seem to be getting two Trainer Special Art Rares per set, with Penny and Jacq in Scarlet ex and Arven and Miriam in Violet ex. Penny is one of the new breakout characters, so this is sure to be a sought-after card when released in English. The mysterious Penny is illustrated here in a warm, sunlit academic setting by OKACHEKE. OKACHEKE has been contributing to the Pokémon TCG since Sword & Shield – Chilling Reign. Some of their more memorable cards include Ice Rider Calyrex Alt Art from Sword & Shield – Chilling Reign, Alcremie Character Rare from Sword & Shield – Brilliant Stars, and Flareon VMAX Alt Art, which showed up as a SWSH Promo in December 2021.
Japanese sets often give us early ideas of what the English-language sets may include, so be sure to keep an eye on our coverage. You can stay tuned for previews of VSTAR Universe cards as well as updates on everything Pokémon TCG right here at Bleeding Cool.