Posted in: Card Games, Games, Pokémon TCG, Tabletop | Tagged: pokemon, pokemon cards, Pokemon TCG, Scarlet & Violet, Tandemouse
---
Pokémon TCG Japan: Scarlet & Violet Ex Preview: Tandemaus Line
New species Tandemaus and Maushold in its Family of Four form make their Pokémon TCG debut in the Paldea-focused Scarlet & Violet era.
---
It's time for a new era. Pokémon TCG Japan has released two sets that kick off Generation Nine and bring Paldean Pokémon and Trainers to the Pokémon TCG for the first time. These two sister sets are Scarlet ex and Violet ex. These sets and as well as three 60-card Starter Set ex decks will be the basis of the English-language set Scarlet & Violet base coming out internationally on March 31, 2023. Starting with these sets, English-language versions of the sets will now more closely mirror Japanese expansions, using silver borders and set codes instead of set symbols. Scarlet ex and Violet ex also see the return of the original lowercase ex card type as well as the debut of the Terastal ex card type that will replace Vs and VMAX as Ultra Rares. We also now know that Illustration Rares and Special Illustration Rares, a card type that debuted in Crown Zenith, will return with this set, with ex cards being the mechanic we'll see depicted. Today, we take a look at another line of new Paldean species that have arrived in the Pokémon TCG.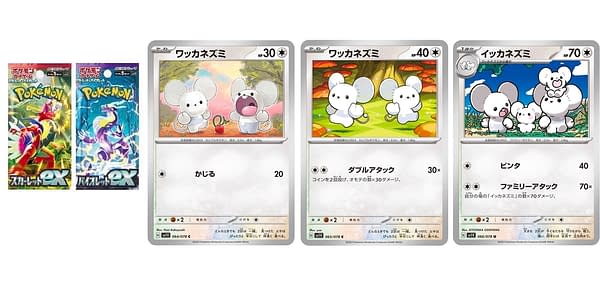 The Tandemaus evolutionary line is a new family of Pokémon introduced in Scarlet & Violet, and, in this case, "family" takes on multiple meanings. Tandemaus is actually a pair that work together as one Pokémon. This Normal-type species evolves into Maushold, which can take on either the "Family of Three" or "Family of Four" forms. Here are the Dex entries for these new creatures so we can get to know them during their Pokémon TCG debut. First, Tandemaus:
Exhibiting great teamwork, they use their incisors to cut pieces out of any material that might be useful for a nest, then make off with them.

The pair sticks together no matter what. They split any food they find exactly in half and then eat it together.
Now, Maushold Family of Three:
The two little ones just appeared one day. The group might be a family of related Pokémon, but nobody knows for sure.

The larger pair protects the little ones during battles. When facing strong opponents, the whole group will join the fight.
Finally, Maushold Family of Four:
They build huge nests with many rooms that are used for different purposes, such as eating and sleeping.

The little one just appeared one day. They all live together like a family, but the relationship between the three is still unclear.
Very wholesome. Their TCG debuts see artists Pani Kobayashi (left) and yuu (center) illustrate Tandemaus while KIYOTAKA OSHIYAMA illustrates a Maushold Family of Four (right). Maushold Family of Three will debut in the upcoming Clay Burst Japanese set, which will also see both versions of Maushold appear on an Illustration Rare.
Japanese sets often give us early ideas of what the English-language sets may include, so be sure to keep an eye on our coverage. You can stay tuned for previews of Scarlet & Violet cards as well as updates on everything Pokémon TCG right here at Bleeding Cool.
---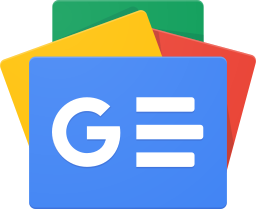 Stay up-to-date and support the site by following Bleeding Cool on Google News today!