Posted in: Card Games, Games, Pokémon TCG, Tabletop | Tagged: Evolving Skies, Jolteon, pokemon, pokemon cards, Pokemon TCG
---
Pokémon TCG Product Review: Eevee Evolution Tin: Jolteon
A new series of products has come out as a tie-in to Pokémon TCG's latest expansion, the Dragon and Eeveelution-themed Sword & Shield – Evolving Skies. The three new products include Eevee Evolution Tin: Vaporeon, Eevee Evolution Tin: Jolteon, and Eevee Evolution Tin: Flareon. These tins include four Pokémon TCG booster packs as well as a promo card featuring one of Eevee's evolutions. These cards are noteworthy because they were cut from Evolving Skies and moved to these to become Black Star Promos. Now that we've cracked a Vaporeon tin, let's pop open a Jolteon tin to see if these are worth purchasing.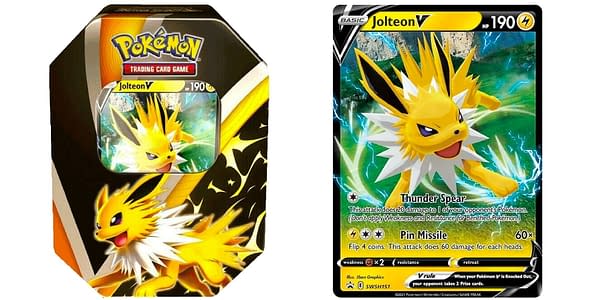 The Promo Card
The Black Star Promo is the Jolteon V from the Japanese Eevee Heroes set that was cut from Evolving Skies. Like the Vaporeon, it is similar in style to the artwork seen of the other Eeveelution Vs, which can be defined by lush colors, no black linework, and dynamic poses. Personally, while I love both the Vaporeon and the Jolteon that we've looked at so far, I find myself drawn to the artwork here. For one, the electricity coming off of Jolteon looks terrific on the foil of this card. Beyond that, I think that the cool green and blue background creates the perfect atmosphere to give Jolteon's bright yellow color the pop that it needs. This is truly a fantastic promo card.
The packs included are:
Sword & Shield – Evolving Skies
Sword & Shield – Chilling Reing
Sword & Shield – Battle Styles
Sword & Shield base
These are the same exact promo packs. I did watch openings ahead of my own purchase, so I went in expecting the same packs. However, you never know. I believe it was the Empoleon V Striker Tin and the Tyranitar V Striker Tin that saw different people receiving different packs. No surprises for me here, though, and I maintain that this was a good selection.
Overall
I come down here exactly the same as I did about the Vaporeon tin. This is a must-have. I do advise collectors to wait until they can get this at MSRP, because I saw some prices that I'd call pretty unfair in the current market, and this is a product that I think you'll be able to find in stores for some time as the Pokémon TCG seems intent on keeping product in print.
---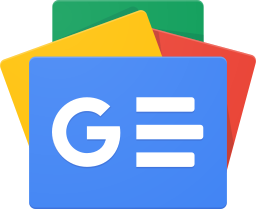 Stay up-to-date and support the site by following Bleeding Cool on Google News today!