Pokémon TCG Product Review: First Partner Pack: Unova
The First Partner Pack series from the Pokémon TCG continues. Every month, a new jumbo pack is released featuring oversized cards. Each pack has two standard booster packs along with three guaranteed jumbo card pulls: the starters of each region. Previously, we have seen Galar, Alolan, and Kalos. This month, we get the Unova Starters. Let's dive in.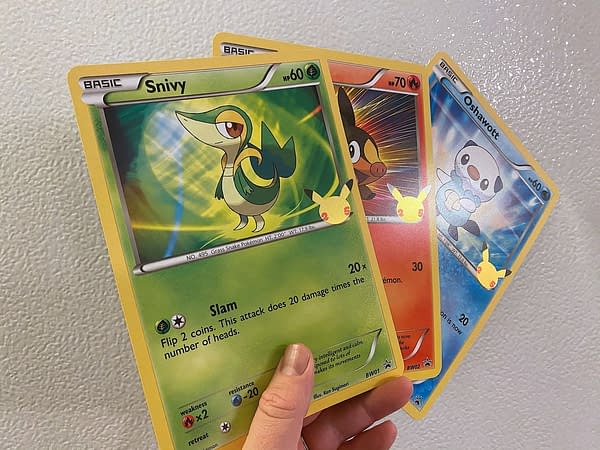 The Jumbo Cards
It's hard to miss with these! The Pokémon TCG had a great idea for this unique project. They're going through this history of their cards and pulling the most iconic appearances of the region of choice's starters. Snivy, Tepig, and Oshawott all look great here, and the cards look even better in the binder. You can see them above. My favorite touch on these cards is the foil P25 stamp, noting that these are Pokémon 25th Anniversary products. One minor quibble, not with the Unova pack but the whole set, is that these should have had their own set symbol and numbering like the McDonald's set did to make this feel like a cohesive whole. I do get, though, the other side of the argument which values the cards being exact replicas in jumbo size.
The boosters here were the exact same as the Kalos pack, which was expected. We got a pack of Sun & Moon base as well as a pack of the latest Pokémon TCG expansion, Sword & Shield – Battle Styles. Both of these are fun sets, and I do appreciate that we're still getting older content in these boxes to help collectors round out their sets. I know some prefer all new content, but I think that a mixture of older and newer creates a more well-rounded offering. I'm excited at the idea, though, that the next First Partner Pack will come out after the wide release of Chilling Reign. I'd love to see the Sinnoh offering come with, say, Chilling Reign and perhaps a different Sword & Shield era set.
Overall
This line of products has been a consistent and fun part of the Pokémon TCG's monthly releases. Definitely worth picking up.