Privateer Press Releases New "Monsterpocalypse" Models
We're gonna need a bigger minis carrier. Privateer Press is coming out with more new Monsterpocalypse releases!

So, the first thing to look out for is Xixorax, a Savage Swarm monster.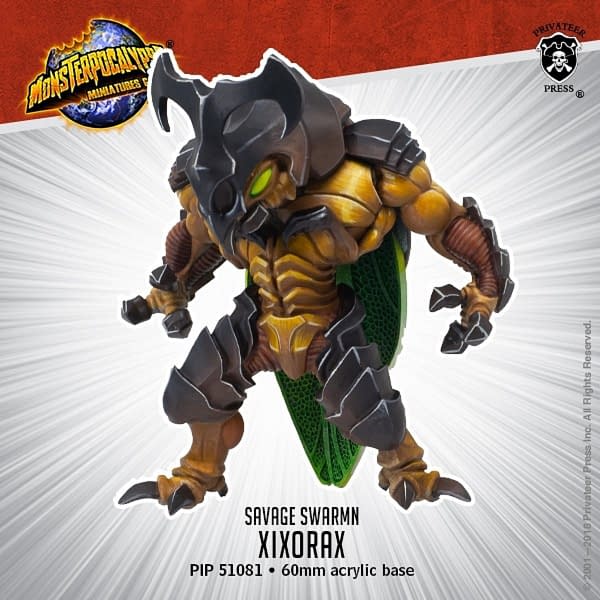 From the website's blurb on Xixorax:
The existence of the Savage Swarm has produced rampant speculation in fields as far apart as biology and theology. Preceded by the drone of a thousand-thousand buzzing wings, Xixorax emerges from craters in the earth to erupt as a force of urban destruction. Resembling a gigantic bipedal beetle, Xixorax shows none of the regard for the natural world or humanity that is demonstrated by the Terrasaurs and Empire of the Apes. Whether he has any intelligence or is motivated by any desire other than pure annihilation remains to be seen.
Next we see some more Destroyer minions, Mollock Brutes from the Subterranean Uprising.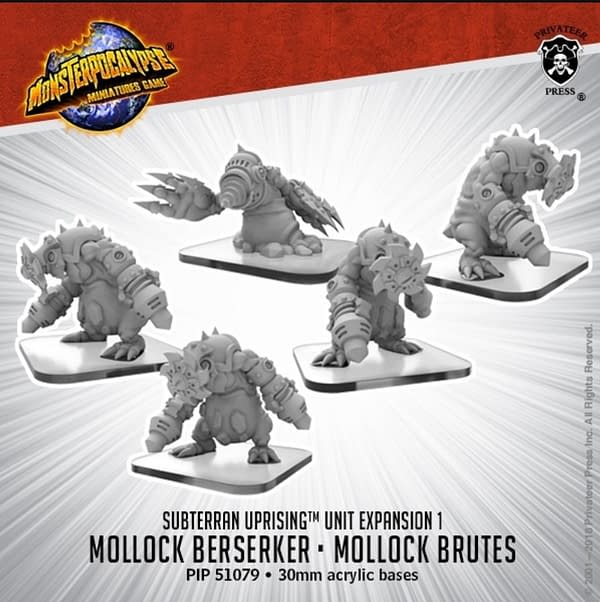 Among the Subterrans, the mollocks are a caste of battle-ready warriors noted for their ferocity and fearlessness. After being surgically equipped with prosthetic grinders and drills, the greater tyrants send mollocks to the surface to murder and destroy. Mollock brutes display a wider array of machined replacements geared toward melee confrontations. Berserkers erupt from the ground to startle and flank foes and enter a frenzied trance-like state until no foes remain.
Next we see the new Protectors models. First off, an Elemental Champions monster: Incinerus!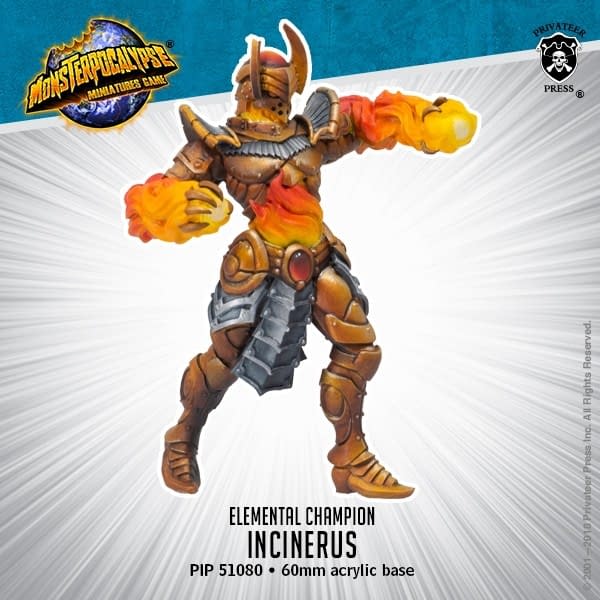 Though his body is wreathed in flame, only good intentions fill Incinerus' blazing heart. The Elemental Champions belong to a secret society of powerful mystics who can tap into the primal energies of the earth itself. By internalizing and harnessing these flows through his body, Incinerus grows to colossal proportions and becomes a self-contained inferno of righteousness, rendering to ash any who would imperil the innocent.
And finally, we see some minions in the Protectors alliance: enter the Steel Shell Crabs and Psi-Eel units from the Tritons faction.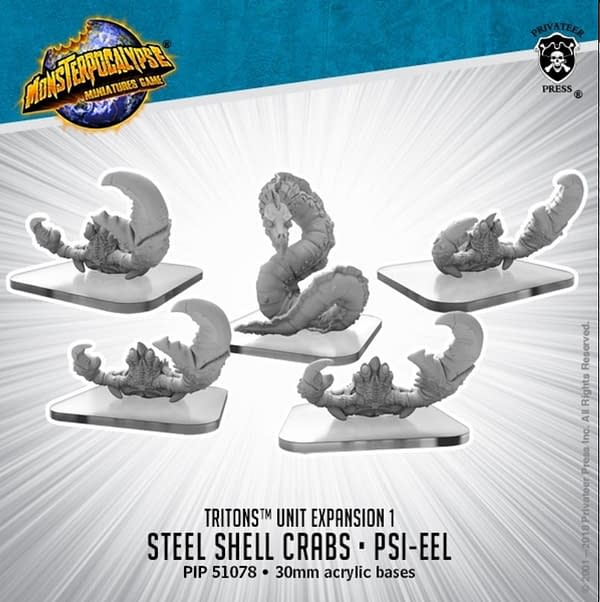 Following in the wake of the first great Triton beast to emerge from the ocean's depths, these lesser creatures would still qualify as sea monsters if you found one washed up on the beach. steel shell crabs are so named because of their incredibly dense exoskeletons. In the first skirmishes between these mega crustaceans and G.U.A.R.D. forces, the crabs' shells were virtually immune to all but the largest ordnance. Luckily, it was soon apparent that, like their larger counterparts, the steel shell crabs were more interested in fighting Earth's invaders than anything native to the planet. Slithering behind waves of crabs come the psi-eels. Human scientists have so far failed to capture a live specimen, so the full extent of their abilities is untested, but from battlefield readings it appears that they have mental capacities hitherto only seen in the extra-dimensional beasts assaulting the planet.
What do you think of these new releases? Are you playing Monsterpocalypse? Do these models entice? Let us know!