There was a point in time back in 2017 when PUBG looked like a juggernaut that couldn't be stopped and was basically ruling the gaming world. The Fortnite came around, and the landscape changed around the entire battle royale fanbase. After a bit of a tug-of-war for a few months, it was clear that Fortnite was going to take over, but we didn't know by how much entering 2018. With direct competition and players now complaining about flaws in the game that hadn't been addressed, PUBG went from being the biggest game on the planet to taking a ten-month loss of players throughout the year. However, that seems to have finally tapered off, as a couple different websites saw on Steam that the company has seen it's first gain in months and is back to over one-million current players.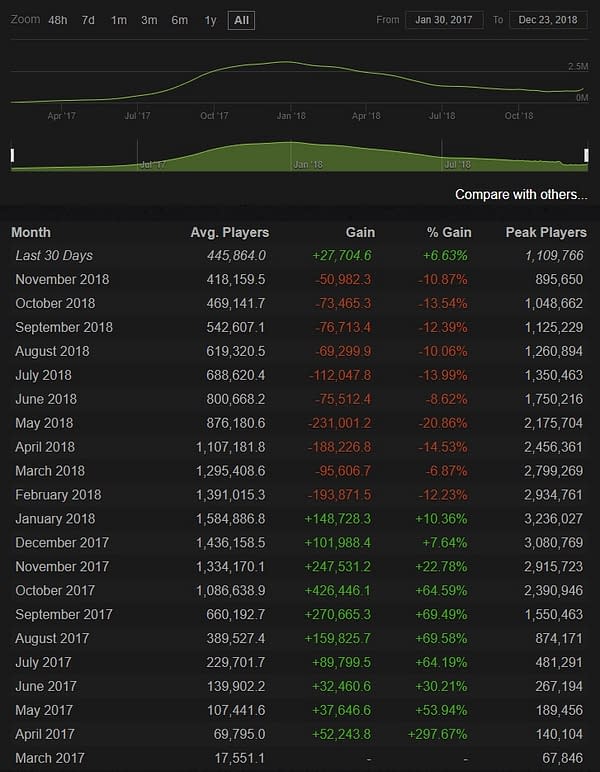 If you believe the scuttlebutt on Reddit, a lot of it stems from people loving Black Ops 4's Blackout mode and comparing it to PUBG, which has gotten a number of people to go back and check out the game now that it's been given some updates over the course of 2018. That, married with the new snow map that just got released saw a rise in people checking out what was going on. Whether or not this will lead to more people playing the game moving forward is unknown, but it could be a sign for PUBG Corp. that the storm of people leaving their game in droves for other competitors may be over for a few.
Enjoyed this article? Share it!