PUBG Reveals Details For The PCS North American Showdown
Earlier today, PUBG released details of how the PCS Charity Showdown events will take place between May 14th-31st. Sixteen teams will face off in this tournament, which will be comprised of the eight North American teams that qualified for the now-canceled PGS Berlin: Americas Qualifier (Soniqs, Exodus, Oath, Houston Hardshifts, LiViD Gaming, 303 Esports, Team Clueless, Radiance), and eight invited teams to balance out the brackets. The remaining eight teams will qualify from the PCS NA Charity Showdown Qualifier, which will happen between May 2nd-17th. The players will be competing for $200k, with $100k as the prize and a $100k to support COVID-19 relief. The winning team will have their $100k donated to the charity of the winning team's choice. We have more details of when and where you can watch the tournament take place below.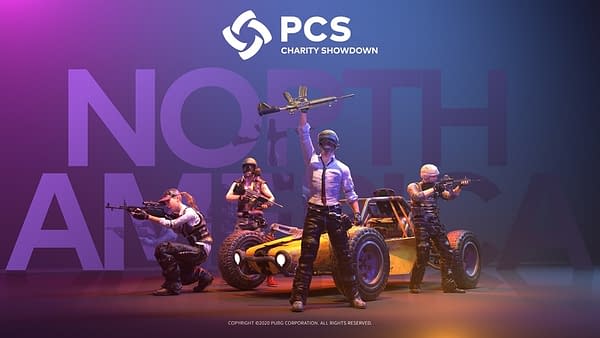 The PCS North America Charity Showdown will also qualify teams into the first phase of the brand new PCS NA Qualifiers leading to even more prize pools outlined in the Qualification for Pro League section below. The PCS NA Charity Showdown will take place over four days with five matches each day, broadcast live on Twitch.

Thursday, May 21st @ 4:00 PM PDT
Friday, May 22nd @ 4:00 PM PDT
Saturday, May 23rd @ 4:00 PM PDT
Sunday, May 24th @ 4:00 PM PDT

The qualifiers will be broadcast by community casters on their personal Twitch streams. Make sure you follow @PUBGEsports on Twitter as we'll announce the stream URLs as casters go live!

Round of 64 (Bo12): Saturday & Sunday May 2nd & 3rd @ 2:00 PM PDT
Round of 32 (Bo12): Saturday & Sunday May 9th & 10th @ 2:00 PM PDT
Round of 16 (Bo12): Saturday & Sunday May 16th & 17th @ 2:00 PM PDT

After the PCS NA Charity Showdown, the PCS1 NA Qualifiers will begin. This three-week, pro league style competition consists of the top 24 teams from the PCS NA Charity Showdown (16 teams from the finals + the 9th-16th place teams from the qualifier). The league itself will award a $50,000 prize pool and qualify the top sixteen teams to compete for $200,000 in PCS1 North America. More information on the PCS1 NA Qualifiers and other semi-pro leagues to come!