RedDeer Games Confirms Multiple Games Coming For The Smurfs
The Smurfs will be getting a new series of releases on the Nintendo Switch as RedDeer Games announced a new partnership.
---
RedDeer Games announced this morning that they will be releasing multiple games for the Nintendo Switch revolving around The Smurfs. The team gave a few hints here and there about what it would be in the announcement, which we have snippets of for you below. But beyond the idea that it sounds like we'll see at least two releases for the Switch, we're not really sure what kind of games they got cooking. The releases will coincide with both the 65th anniversary of the IP, as well as a new movie on the way, but no timeframe was given for when they'd be published.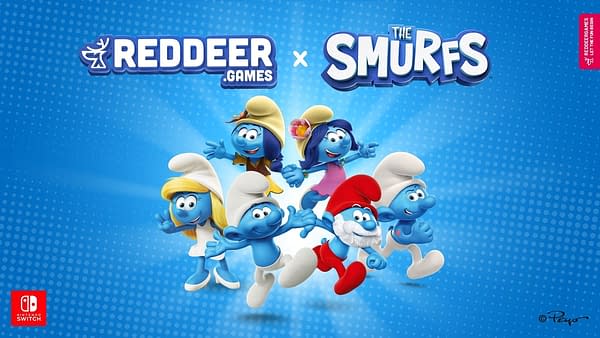 "RedDeer Games will act as both producer and publisher of new apps with the Smurfs for Nintendo Switch. This year's console launch will coincide with the celebration of the Smurfs' 65th anniversary, the debut of the Smurfs new series on popular streaming platforms, and some new exciting announcements about the long-awaited new Smurf movie. Stories about a village of friendly, cooperative Smurfs and the wizard Gargamel who hunts them have been attracting children in front of screens and comic book pages for years. RedDeer Games will use their experience gained from developing some of the most popular apps and games on Nintendo Switch, such as nOS, Sport & Fun: Swimming, Family Chess, Comic Coloring Book, and AAA Clock, to develop family-friendly apps for fun and learning.
The Smurfs universe is perfect for such games – says Dominik Czarniga, co-founder and chief creative officer of RedDeer Games.
Sympathetic and loved by kids, the characters inhabit a fantastic, visually interesting world. Many people in our creative department remember them from the cartoons they watched as children – he adds.
We are so excited to bring more Smurf Fun on Nintendo Switch with this new partnership with the talented teams at RedDeer.Games. This is a great opportunity to connect with kids and parents with brand-new smurfy creative and fun apps and games – says Fabienne Gilles, Head of Consumer Products & Family Entertainment at IMPS – The Smurfs."