Dungeons & Dragons recently celebrated their 45th anniversary in style as the company offered up a special Sapphire Anniversary Dice Set. The set was made available in December with a limited number of them being created by Level Up Dice, 1974 of them to be precise. Packaged in a special box with a few additions to make it one of the ultimate collector's pieces. But how well does the set work as a display piece and as a practical dice set? We cracked open the box (which we're sure has infuriated many) and took them for a roll.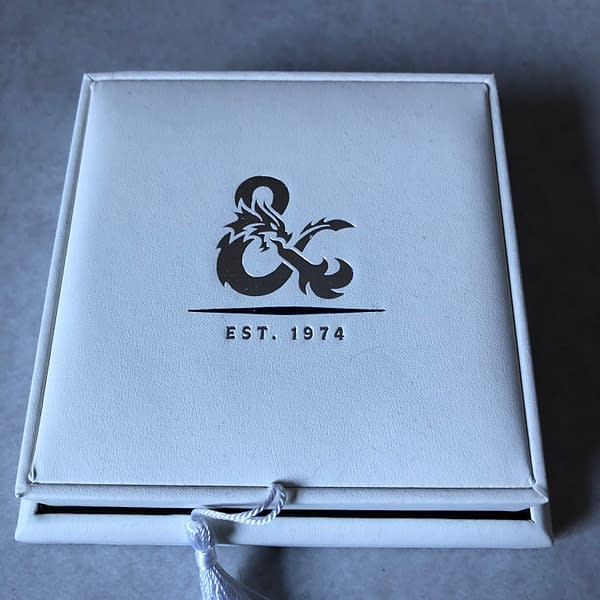 First and foremost, let's discuss this packaging. This is a small white leather box that was basically created with the intention to stand out. Most players, depending on what they decide to purchase, get their traditional black bag of dice and then find others with a little flash and flare. This is a statement! Complete with the silver ampersand logo and the Est. 1974 labeling on the top. As you can see, it comes with a white tassel cord on the front for you to pull up on to open up the box.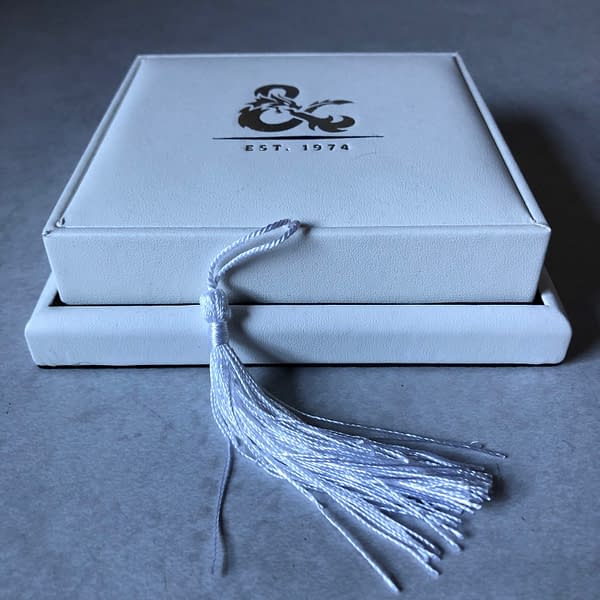 Looking inside, we have what would be a standard complement of dice you would need for a regular game of D&D. Two D20, a D8, a D12, a D4, two D10 (single and percentile), and four D6. With the exception of a few of these, most of the dice use the logo as the highest number. The exceptions are the D4, which put it on every side, and the primary D20 which comes with a custom-designed gemstone. All of them designed in silver with sapphire engravings for the numbers and symbols.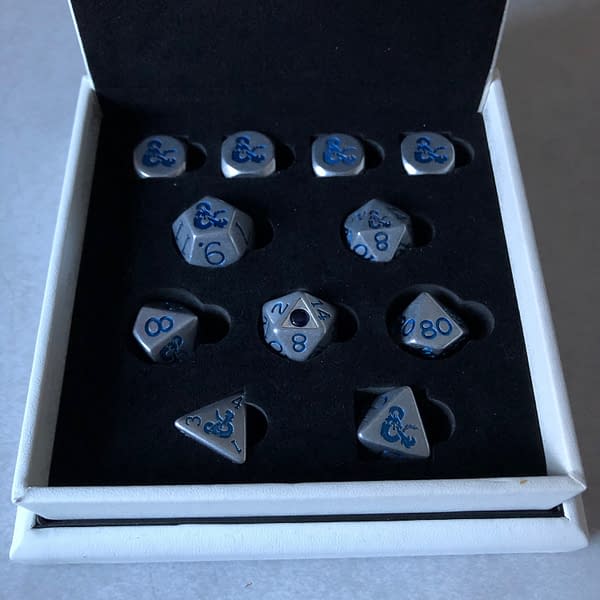 When you lift the primary section of the box up, you get a rolling tray on the bottom, which is a great design and addition that gets overlooked with this set. The tray itself feels like a light leather with the same silver ampersand logo from the top placed in the middle. Complete with a black felt bottom that will sit on almost any surface and not slide around. I enjoyed seeing this as it gave a great place to put the dice.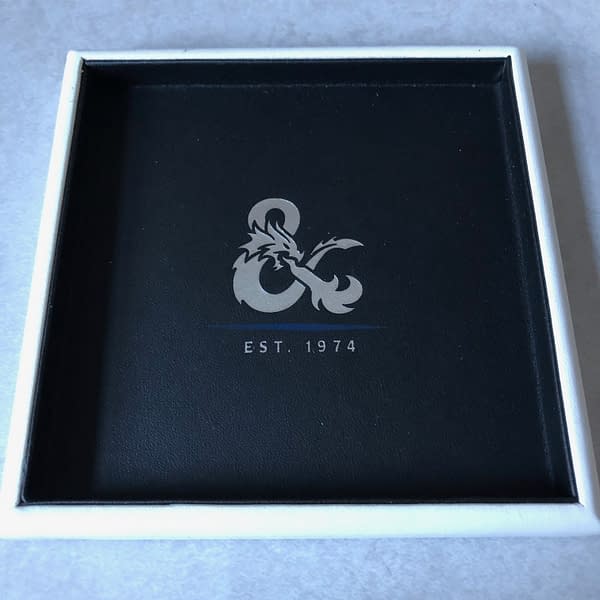 As to the dice themselves, I'll be honest with you, I'm not entirely sure how I feel about them for in-game use. So while they look and feel like heavy metal dice, they weight and roll like they're made of a lighter material. I've seen a lot of different sets of dice that Level Up Dice have created and shown off at conventions over the years, and these don't drop or feel like any I've tried before. I've had polymethyl dice that have hit the tray harder than these. They're deceptively designed, which I have to give them credit for as they don't damage the tray or have a heavy thud or come off like they could crack glass. As far as how they roll… I wasn't getting that great of rolls out of the D20 with the gem in it. Which I'm heartbroken to report, as it cost me a few different successes in a home game. They have varied results for the rest of them, which is good to know as they're all balanced and fair. But I ended up cursing that one D20 as it would land on the 20 only to shift to one side and give me a 2.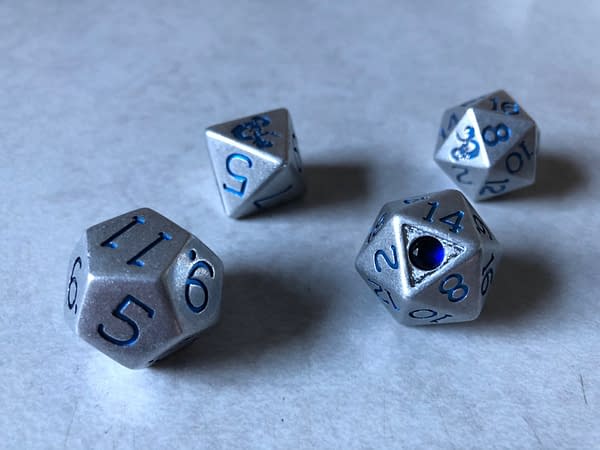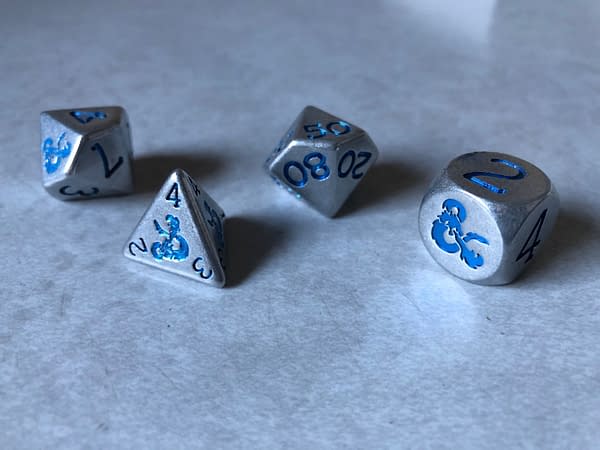 A few of the small additions to the set include a small card signed by the staff of WotC as a thank you, which also serves as the official numbering of the dice set you have. Proof you have one of them and not a knockoff, as we got #1477. A set of special silver stickers in case you'd like to decorate stuff in reflective silver. And a sheet for an Adult Sapphire Dragon with special stats for the monster. This was a nice little touch that the D&D crew didn't have to include, but did, and it makes it feel a little extra special.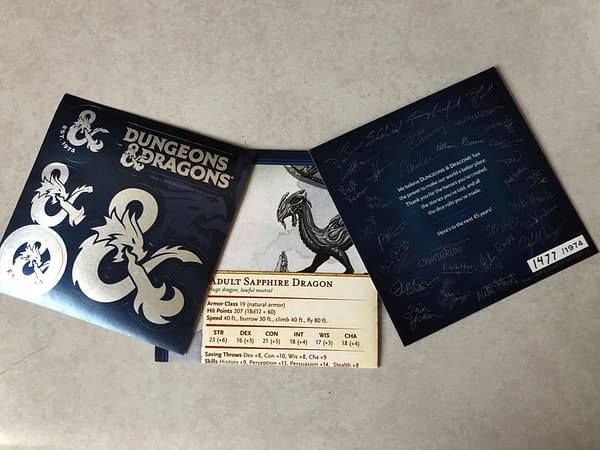 Overall, I have mostly positive feelings about the Dungeons & Dragons Sapphire Anniversary Dice Set. As a product directly aimed for D&D fans who have a passion for this game that goes back decades, this is basically a centerpiece to put in the middle of all those books, character sheets, and memories. They went above and beyond to create an anniversary piece that collectors will want to have on a shelf and even break out on special occasions. That said… hardcore collectors are probably going to be the ones who end up buying this set the most, because it comes with a $300 price tag. This is the set for people who really love D&D and want to mark the occasion in a flashy way. Which we can't argue with, but also recognize not a lot of people can drop that amount of coin on a set like this. If Dungeons & Dragons is your jam and you want to mark the occasion for years to come, this set is for you.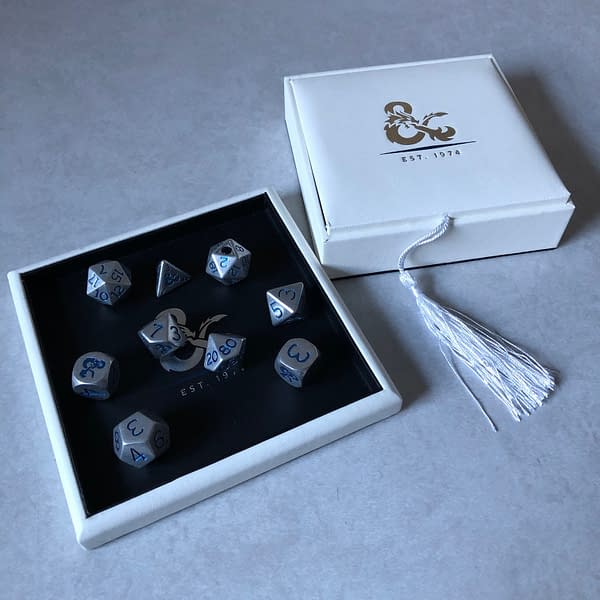 Enjoyed this article? Share it!