Aesthetics are my life. Finding unique and eye-pleasing items is something I live for, and these custom Arizona Iced Tea inspired dice handcrafted by Live and Let Dice is exactly what I'm looking for. This brand new set was hand-painted in the mold with font by WerpyDice. I am in love with everything about this dice set — if you have an eBay account, this is a listing to watch!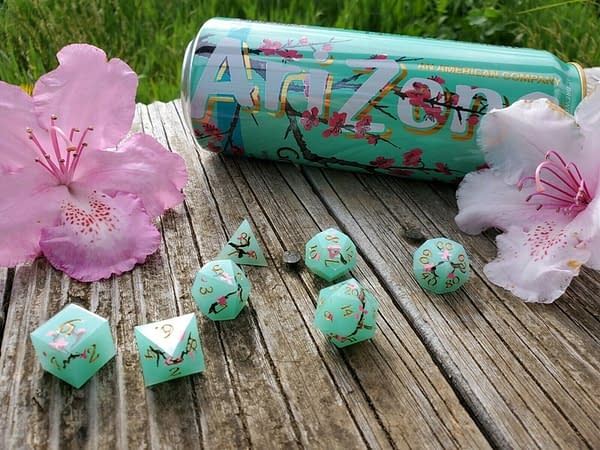 Live and Let Dice is a new small business focusing on making unique and exceptional dice. The current auction for this exceptional pair of dice ends in 9 days, and bidding has already reached over $150. This is probably the best way for this brand new business to get their feet wet in the board gaming world, and I have a feeling it'll pay off. According to their Twitter account, Live and Let Dice will be opening their online shop come June, and it looks like it'll be filled with all kinds of beautiful dice sets for you or someone you know. If you're like me, you tend to hoard dice sets like a dragon — it's a problem I refuse to seek help for.
Big things are coming…
Online shop GRAND OPENING on 6/1/2020!
I will be taking pre-orders on the Arizona Dice Tea sets and d20s! Die-nosaurs and stickers will also be available! #resinart #livenletdice #handmadedice #dnd #grandopening pic.twitter.com/Ip9TUhYCtS

— Live and Let Dice (@Live_n_let_dice) May 19, 2020
While browsing their Twitter one thing is clear: Live and Let Dice is looking to shake things up in the dice world. I personally am excited to buy my own Arizona Iced Tea die-nosaurs for my next board game night. I might even buy a new set for when I play Dungeons & Dragons next! Will you be bidding on this awesome dice set? Are you a small business making exceptional gaming supplies and want us to cover your items? Let us know in the comments below — and happy bidding to those of you who will be going for this dice set. May you have good rolls with them!
Enjoyed this article? Share it!