[REVIEW] Spike Chunsoft's "Crystar" is More Fun than it Sounds
[rwp_box_recap id="0"]
Crystar is a game about a young girl who travels to purgatory and purifies the torments of restless souls by crying about it. The game even has a "cry to gain more power" mechanic. The game is described by Spike Chunsoft and developer FuRyu as "driven by catharsis," which is why Rei gains strength from purifying torments with her tears.
The plot follows Rei and her sister Mirai, who are dragged into purgatory. Rei tries to lead herself and her younger sister home, but they're attacked by the revenant princess Anamnesis. While Rei awakens her inner strength to save Mirai, she eventually loses control and kills her own sister.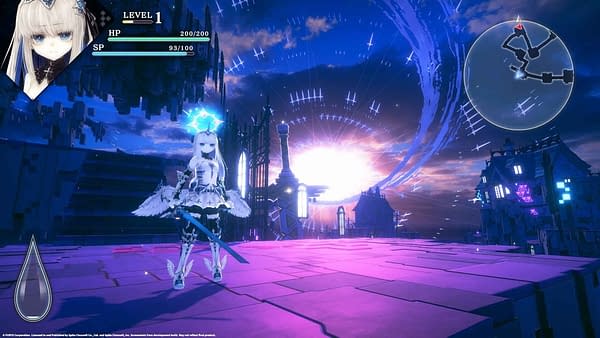 From there, Rei contracts with two demons, Mephis and Pheles (which is a vintage Faust reference) to try and save her sister. In order to bring back Mirai, Rei must collect seven tear gems. To do so, she's got to fight the wandering souls and revenants that have taken over Purgatory. Which brings the game into its full loop. Rei enters the afterlife, hacks and slashes her way through the violent lost souls, collects their torments, and then goes home to "purify" them by crying over the memories contained in the torments.
Purified torments become sentiments, which can then be used as gear pieces to strengthen Rei or one of the other three playable characters.
Now, I love me a good hack and slash game. So despite the repetitive procedurally generated purgatory levels, the oversized UI, the Anime-esque opening movie, and the general wonkiness of a game that makes crying into a mechanic, I had a decent bit of fun with Crystar. Sure, the story didn't grip me all that hard, but Crystar is a pretty short game. There are only 8 stages of Purgatory for the player to go through, and those dungeons aren't the most difficult I've ever played. The combat was fun but simplistic, with only a handful of combos, and really only one big special move. Which made for very repetitive gameplay. However, it's an entertaining way to pass some time, and the story does get to a point where the deluge of unanswered questions will cause you to be engaged in the plot regardless of how much you care about Rei and Mirai.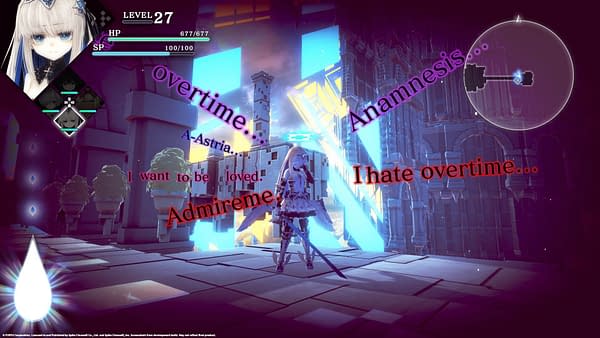 The game is at its best when viewed through a more literary lens. When you consider it an example of the role catharsis plays in development, when you read through the various torments to understand who the lost souls wandering Purgatory are, Crystar is a powerful metaphor. The execution of that metaphor, however, does leave quite a bit to be desired. The character's acting and the plot are a bit too superficial for a game that's trying to be a philosophical muse on the role of crying when it comes to being a "strong" person. What Remains of Edith Finch had a similar message about coming to grips with one's past, and handled it in a far more elegant way.
Which isn't to say that Crystar is bad. It just feels a bit unpolished and a bit too boring. After all, hack and slash games shouldn't be formulaic, they should be frenetic and viscerally satisfying. Which is not what Crystar is going for. And I don't think making the game a proper hack and slash would solve the problem, because that kind of gameplay doesn't fit with the core of the game's message.
Then again, based on user reviews, I appear to be in the minority.