Risen Makes Its Way To All Three Major Consoles
THQ Nordic has officially given Risen a console port as you can play it right now for Xbox, PlayStation, and Switch.
---
THQ Nordic has officially released the console version of Risen, bringing the game to PlayStation 4, Xbox One, and the Nintendo Switch. Originally released clear back in 2009, this is the game you know and love with a bit of a clean up and some fine tuning so you can experience it in a better way. The company has partnered exclusively with GameStop for the PS4 and Nintendo Switch versions in North America, but Xbox is pretty much available everywhere else. You can see the game in action down at the bottom as it is out now.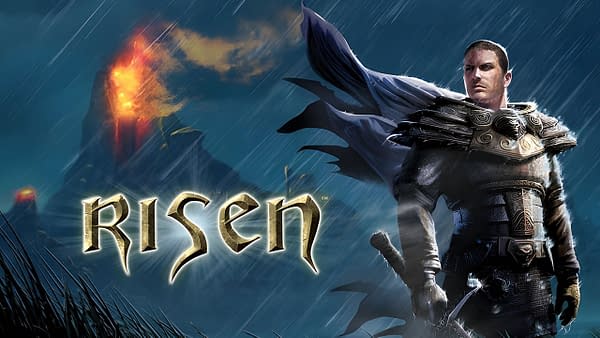 The volcanic island of Faranga is being terrorized by monstrous creatures. Inquisitor Mendoza has arrived on Faranga, an island inhabited by numerous vicious creatures and ruled by the enigmatic Don Esteban. Ruins have risen from the ground across Faranga, with dangerous monsters slowly taking control of the island. Mendoza wants to investigate and desperately needs your assistance – will you help him? Find yourself caught amidst rebellion, tyranny, and mystic rituals, with the ultimate decision of which way the pendulum of fate swings lying in your hands. Delve into the gritty and atmospheric world of Risen, where every action has a consequence. Master the sword, learn the art of staff fighting, or become a powerful mage, forging your path across a land filled with mysterious earthquakes, fearsome monsters, and unimaginable treasures. Wield sword, staff, and over 20 spells to defend the land and shape its ultimate fate, with no loading screens for a seamless open-world RPG adventure.
Port of the cult RPG with full gamepad controls and reworked UI.
Open-world action RPG where every action has consequences.
Divided into four chapters, letting you decide which side you will join.
Over 20 different spells to choose from, cast either through scrolls or runes.
Fully seamless world streaming support – No loading screens.
With each level, your character will learn and improve their skills.
Countless side quests and creatures to discover.
Over 60 hours of immersive open-world gameplay.