Samurai Jack: Battle Through Time Will Be Released On August 21st
Adult Swim games revealed today that Samurai Jack: Battle Through Time will be released sooner than expected as it comes out August 21st, 2020. The game was confirmed a few months ago for PC via both Steam and the Epic Games Store, as well as all three major consoles for this summer, but a release date had been held off. Now it looks like ASG decided to wait until the online version of SDCC to make the news known. You can read more about the game below as well as check out the latest trailer.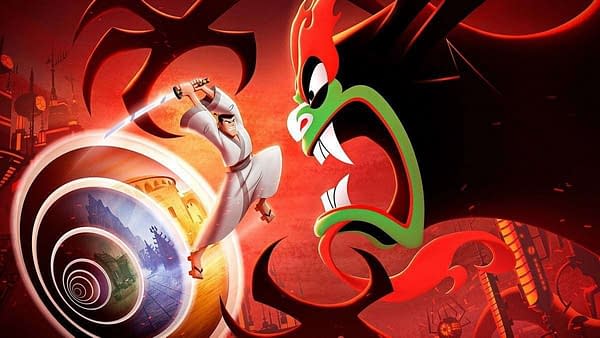 Based on the Emmy Award-winning series, Samurai Jack: Battle Through Time is the great stoic hero's untold final adventure, with a script from series head writer Darrick Bachman. Trapped by his arch-nemesis Aku in an alternate timeline during their final confrontation, Samurai Jack must team up with his closest allies against his most notorious enemies to return home. Made for fans of Samurai Jack and action games alike, Samurai Jack: Battle Through Time features classic combat and gameplay, stylized 3D visuals, and the show's renowned blend of humor and drama. Explore the fantastic world of the show, unlock new skills and combos, and slice and dice your foes with over a dozen unique melee and ranged weapons.

An Untold Adventure That Ties Into the Epic Series Finale

Team up with trusted allies from the show to face off against familiar enemies.

Explore Worlds from the Award Winning Series

Visit classic worlds and moments from your favorite episodes. Travel to a dark future to free mankind. Dive into the past to face off against diabolical monsters. Seek your fate as you travel across space and time.

Create Your Own Legend

Equip and master over a dozen different weapons in combat. Increase your power even more by training and unlocking new skills to support your playstyle.