SCUF Gaming Reveals Call Of Duty League 2020 Controllers
A cool reveal today from SCUF Gaming as the company showed off all of the custom controllers for the Call Of Duty League. All of these new custom faces show off all of the official League team designs, with each one featuring team colors and logos. The new line of SCUF controllers commemorates the inaugural season of the COD League, as each of the 13 designs are available on two different SCUF controllers: the SCUF Infinity 4PS Pro and the SCUF Impact. This is a cool way to promote the League to people who want to show off pride for the teams they support. You can read a little bit more about them below as they are now on sale. The SCUF CDL 4PS Pro ($159.95, £144.99, and €169.95) and the SCUF CDL Impact ($169.95, £154.99, and €179.95) are both available now on their store.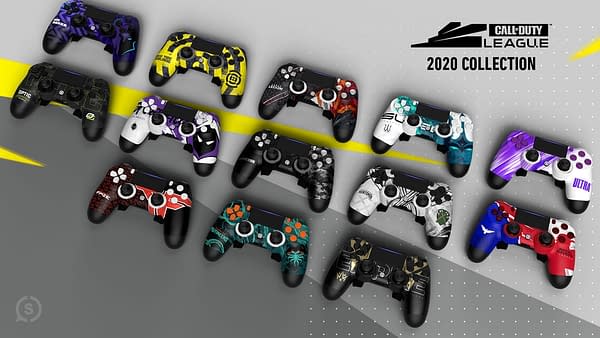 "SCUF Gaming has a long history with the highest levels of competition in Call of Duty, and we're proud to launch this collection so fans can support their favorite team," said Duncan Ironmonger, CEO and Founder of SCUF Gaming. "While the designs capture all of the excitement and passion of each franchise, SCUF features and functionality unlock the true potential of every competitor and gamer."

SCUF controllers are built with a suite of configurable components, including unique back paddles, ergonomic grips, tunable trigger stops, and thumbstick lengths. These features make SCUFs the preferred controller of countless esports professionals because each component can be tailored to the style of the player, providing a measurable performance improvement. Numerous Call of Duty League competitors such as Clayster, Attach, and Methodz use a SCUF in-game. This year marks the inaugural season of the Call of Duty League, which features five-on-five matches from professional esports teams in 12 markets, representing 11 cities in four countries around the globe.