Dotemu has announced that Streets of Rage 4, which is to be developed by Lizardcube and Guard Crush Games.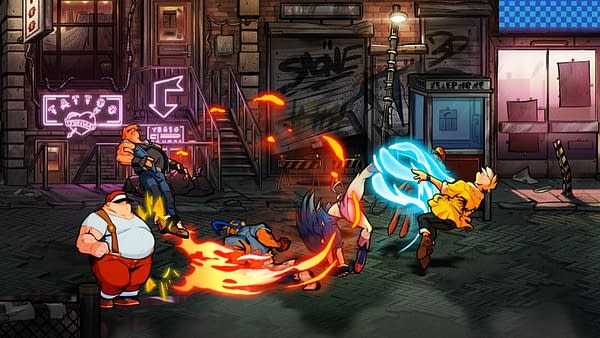 Streets of Rage is one of the enduring titles from early on in mainstream gaming. The beat 'em up was the standard bearer for the genre and remains a major part of a lot of players memories. That said, it's been a cool 24 years since the last entry, so you certainly have to be of a certain age to have those memories.
Well, it seems someone is going to try and take a stab at recreating the magic of the brawler. Publisher Dotemu, who recently announced another nostalgia project, Windjammers 2, has revealed that it is working on Streets of Rage 4. Lizardcube will be taking on the title alongside Guard Crush Games.
But what will it look like? Well, the game will be hand drawn, which you can see in photos up of top the story. To go along with the announcement, here is a trailer for the game too. It's got a neat look to it for sure and goes heavy on that grungy early 90s aesthetic. Right now, it only has Axel and Blaze announced, but you'd have to imagine more characters will be announced soon. Take a look:
No release date or window was announced for the game.
I'm certainly intrigued by someone trying to bring Streets of Rage back. I'm not totally sure what Streets of Rage looks like in 2018, but it should be interesting to see someone try and find out. It's potentially dangerous, as people have very strong feelings for the franchise, but here's hoping it all comes together for all involved and the long waiting fans.
Enjoyed this article? Share it!