Streets Of Rage 4 Is Getting A Special Signature Edition
Merge game and Dotemu revealed this week that Streets Of Rage 4 will now be getting a special Signature Edition. Considering all of the development teams involved, which include Lizardcube and Guard Crush Games, had put so much work into the game, we kinda figured there would be some kind of bonus at the end of the rainbow when the game was finally released. Now we know that when they release the physical version sometime this summer, we'll be getting at least two choices to pick from. The first will be the standard edition, which will pretty much be the game and maybe a code for something included. Meanwhile, the Signature Edition is getting loaded with some nice bonuses. These include a big Special Edition box, the complete standard game with a reversible cover, art book and key-ring, five fighter enamel pins, a numbered art card, the original soundtrack comprising of 35 tracks, and Axel's blue headband.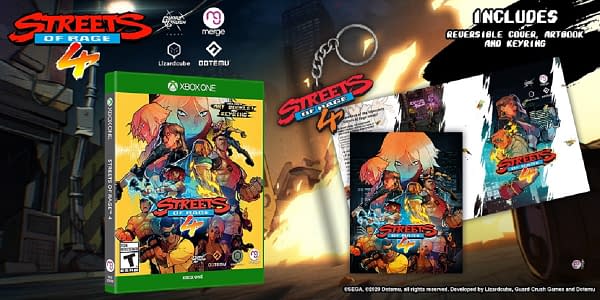 It's a nice little collection of items for people who are super into the game and want to show their love for it off in various ways. Not sure how often people will be using the headband, but hey, who are we to judge? The Signature Edition of Streets Of Rage 4 will be sold on all three major consoles for $45 on PS4 and Xbox One, and for some reason $50 on the Nintendo Switch. However, another oddity, there will be no version of it for PC. The standard edition will be sold for $35 on PC, PS4, and Xbox One, with yet another oddity as the Switch version will be sold for an extra $5 at $40. No reason seems to be given why the Switch versions cost more or why the PC players won't be getting a Signature Edition. You can pre-order all of these right now on the Signature Editions shop.