Super Smash Bros. Ultimate Speculation: Is Waluigi DLC #11?
At the very start of July 21st, 2021 (by way of Eastern Time), Masahiro Sakurai, known for creating Nintendo's famous crossover brawler game series Super Smash Bros., tweeted out a post on Twitter celebrating the birth of the character Waluigi, by way of 2000's Mario Tennis title. However, it is quite possible that in doing so, Sakurai may have dropped a major hint as to the identity of the final downloadable content character for Super Smash Bros. Ultimate.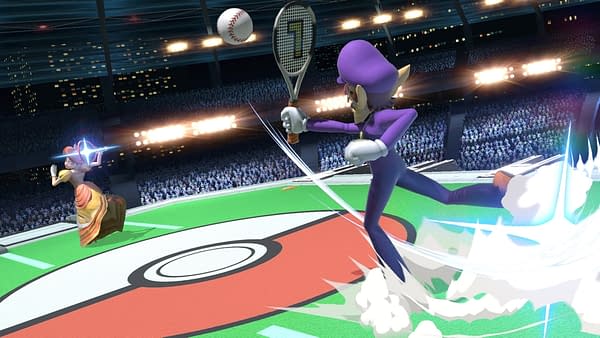 It is odd that, besides Waluigi finally being of legal drinking age in the United States, the above image, part of Sakurai's tweet, a) takes place on a stage that doesn't appear in a Mario Tennis game, b) features a baseball as opposed to a tennis ball, c) sees the other character, Daisy, armed with a tennis racket, and d) is part of the first mention Sakurai has explicitly made of Waluigi in approximately seven years (and yes, people have been counting them).
While we have waxed poetic about the unlikely fan-favorite for some time now, this image is too uncanny for Sakurai to have posted unawares. Therefore, there are a few possibilities here. Either:
a) Waluigi is coming to Super Smash Bros. Ultimate as more than an Assist Trophy
b) There is another Mario Tennis game coming out that features a Pokémon Stadium court
In doing a reverse image search, we have concluded that this image is an original one and that the reverse image search has found no images similar to it. This may simply mean that the image search client we used is just plain bad, but it also could mean something far deeper than that. We honestly don't want to get our hopes up and are taking this with more than a few grains of salt, but what do you think? Despite all odds, is it possible that Waluigi will be a playable character in the final DLC of Super Smash Bros. Ultimate? Let us know your thoughts in the comments below!