Techtonica Releases Free Demo For Steam Base Builder Fest
You can play a free demo for Techtonica right now as the developers released one for Steam Base Builder Fest.
---
Indie developer and publisher Fire Hose Games announced that Techtonica has a free demo out now for Steam Base Builder Fest. The game has been in development fort a hot minute as they have created a builder title that will have you working underground on an alien world, trying to put in infrastructure as well as mining it for resources to build all sorts of things you couldn't make on Earth. We got the details of what this game is like for you below, as the demo is available on the game's Steam page right now.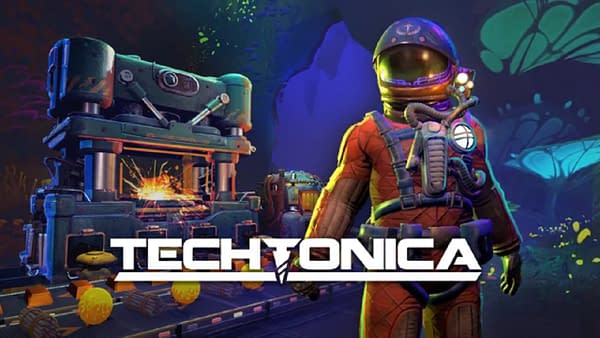 "Techtonica is a first-person factory automation game set beneath the surface of an alien planet. Work alone or in co-op to build factories, gather resources, research new technologies, mold the destructible terrain, establish a base of operations, and uncover long-forgotten secrets."
Discover and Shape a Beautiful World: Explore the cavernous depths of Calyx surrounded by bioluminescent flora in first-person. Dig into the terrain and uncover secret caverns, scan aging artifacts, and unravel the alien planet's mysteries.
Pull at Narrative Threads: Something happened on Calyx long before you woke up. Explore and automate to pull at the narrative threads and discover a fully voiced storyline.
Construct Your Factory: Power your mining and production with dynamic and interlinked factory systems. Build machinery to help extract resources from the caverns around you and fuel your continued expansion and exploration.
Automate Your Empire: Conveyor belts and unique travel systems make sprawling, automated factories easier to build, connect, and traverse. Optimize your industrial complex to run itself so you can spend your time exploring Calyx.
Uncover Upgrades: Start small and get massive with gameplay systems that continually evolve with new challenges and solutions. Unlock recipe upgrades for new technologies and better automation.
A World in Audio: Techtonica's original, dynamic soundtrack from Cityfires (20XX, Catlateral Damage: Remeowstered) will have you getting lost in soundscapes as beautiful as the bioluminescent flora that surrounds you.