Machinima officially announced their plans happening during E3 this week as they'll be bringing their esports event, Body Count Fighting 6, back to the convention. If you haven't seen these before, they're basically a chance for some pro players to show off their skills in one-time non-tournament matches to prove who is better.
This year, they got a special bonus match on the card as Terrell Owens will face off against De'Aaron Fox in Dragon Ball FighterZ for a sort of "NFL vs. NBA" kind of match. Below is the match card and the finer details of the event in case you wish to stream it or see it in person.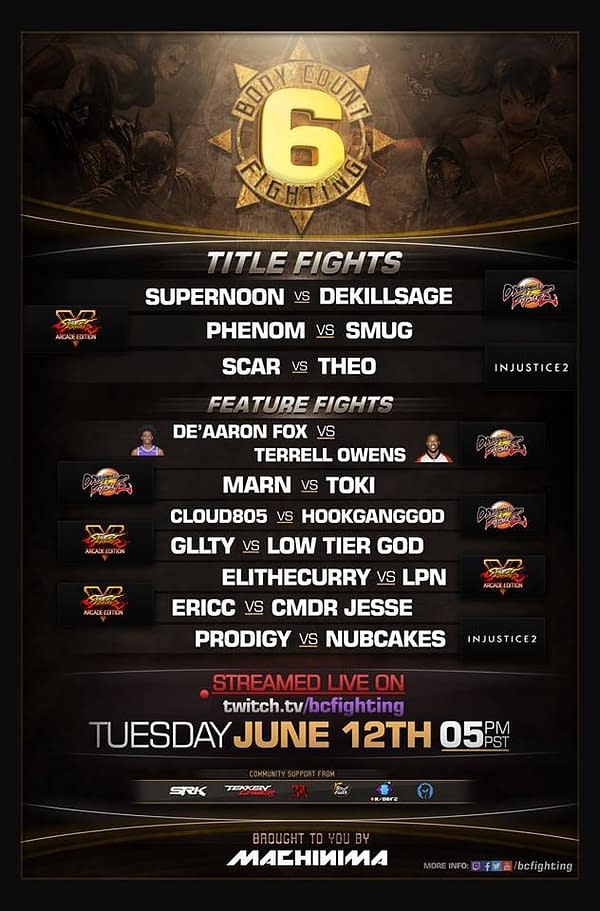 Players can watch all of these action-paced matches live on Machinima's Twitch channel and enjoy food and drink during Machinima's FREE E3 party at Tom's Urban (one block from the LA Convention Center) taking place from 4-10pm PST. During the party, there will be one more extra special competition as De'Aaron Fox from the Sacramento Kings, and future hall-of-fame NFL wide receiver Terrell Owens will be in attendance for a live, in0-person exhibition match in Dragon Ball FighterZ. The special NBA vs NFL exhibition match will start at 5PM PST and fans who attend the event will also get to play games on vintage arcade cabinets for a chance to win awesome prizes.
Enjoyed this article? Share it!