"Tetris 99" Will Be Running A "Splatoon" Specific Maximus Cup
Tetris 99 is going to be getting a special Maximus Cup this week as Nintendo will be bringing the world of Splatoon to the game. Much like previous Maximus cups, all you basically need to do is be one of the top 99 players in the game during a specific period, and you'll be rewarded with 999 coins in the Nintendo eShop (about $10 credit). But the added caveat for this round is that if you get 100 event points, you'll unlock a new Splatoon theme for the game. Which you can do if you just play 100 games and take last place in all of them, based on the chart they've provided. We have the finer details of the event below, but best of luck to all of you who choose to compete this weekend.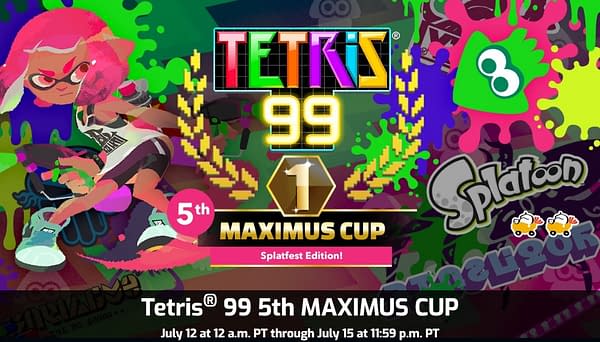 The free event runs from 12 a.m. PT on July 12 to 11:59 p.m. PT on July 15. If you're a Nintendo Switch Online member, you just have to play the Tetris 99 online mode during the event period. A greater number of event points are earned the higher you place after each match, and once 100 event points are reached, the new Splatoon theme for your Tetris 99 game is unlocked!