The latest update to Marvel Strike Force will bring in both the Inhumans and the Asgardians as they partner up for the latest adventure. Four new characters join the fray as you will get Sif, Black Bolt, Heimdall, and Yo-Yo. There isn't much else to the update other than you're getting these new characters added to the mix. You can read about their abilities below as they join Marvel Strike Force with the 3.7 update today.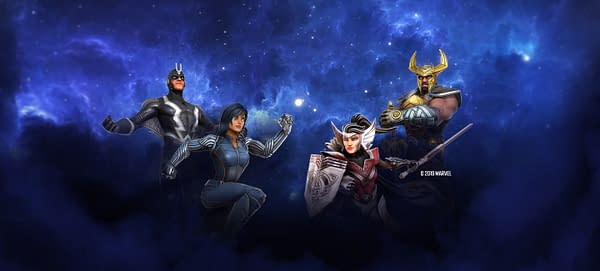 Sif is the Asgardian Goddess of War, a deadly fighter, and swordswoman capable of besting the most formidable fighters. Sif uses her combat prowess as the Protector for the Asgardians where she draws enemy fire with a low energy-cost Taunt, fortifies with Block and Deflect, then attacks-back with Counter.

Heimdall is the sworn protector of the Bifrost, the Rainbow Bridge that connects Asgard to Earth. In addition to super strength, he's gifted with extraordinary senses that allow him to see and hear anything that occurs in Asgard. As a member of the Asgardian Alliance War team, Heimdall is a Brawler who smites enemies with heavy attacks, Heal Blocks and flips enemy Stealth, and grants Asgardians Defense Up on War Defense.

Black Bolt is the King of the Inhumans and another Legendary Blaster. With the power to shatter planets with just his voice, Black Bolt brings heavy damage to execute his enemies. On top of dealing heavy damage, his attacks strip enemy's of their positive effects. He can also Disrupt summons, and block Revive abilities on foes he's eliminated (except Phoenix).

Yo-Yo is the Protector for the Inhumans who enforces Offense Down on opponents during their turns. He also applies Evade to allies along with Defense Up on Spawn, and grants Ability Energy for Inhuman allies. As one of the fastest heroes, Yo-Yo has the highest speed stat in the game.
Enjoyed this article? Share it!