The Gunk Releases New Walkthrough Video Ahead Of Release
Thunderful Publishing has released a brand new walkthrough video for their upcoming game The Gunk ahead of its release next week. This new video features Fiona Nova, the voice of the game's main protagonist Rani, who introduces us to the game's characters and the alien world you'll be exploring. You can enjoy that entire video below with more info on the story as the game will be released for Xbox Series X|S, Xbox One, and PC on December 16th, as well as being available on Xbox Game Pass on day one.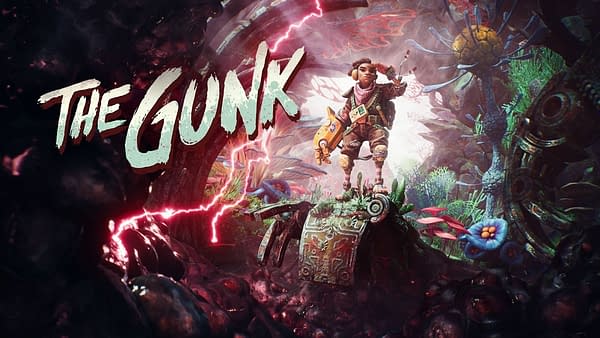 Rani and her partner Becks are a space hauling duo mining the galaxy for whatever resources they can sell to make ends meet. When they come across a seemingly barren planet infested with a strange undiscovered substance they call "the gunk", they wonder if they might be in for a big payout. The Gunk has a big emphasis on exploration with a wondrous and diverse alien world to discover featuring biomes ranging from rocky canyons, to dense jungles, to deep subterranean caves (this is the team behind SteamWorld after all) and a few more surprises. The gunk is turning all of these zones barren, but as you remove it using Rani's upgradable goo-sucking power-glove, you'll discover a flourishing ecosystem seemingly suppressed by this mysterious and destructive gunk.

The intriguing questions of what the gunk is, how it got here and what kind of world existed prior to its arrival can be uncovered as you explore. Perhaps the gunk has something to do with the ruins of an ancient civilization that appears to be long gone? Scanning the environment to make new discoveries and learn more about the world will fill out your findings in a logbook. Players who dig into these entries might just find some clues as to what happened here!