The Librarians: Adventure Card Game Announced For Tabletop
Game designer Brett Schofield and game publisher Everything Epic have collaborated with Electric Entertainment to bring a game based on popular television series The Librarians to the public! The Librarians: Adventure Card Game will have a Kickstarter campaign launched to fund it in Q3 of 2020.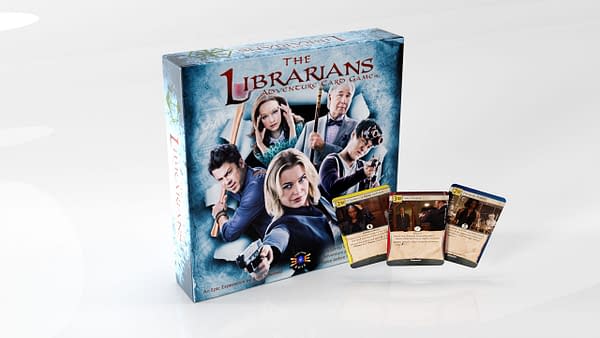 The Librarians: Adventure Card Game appears to still be in development and as such, we expect any of the images in the game to change at a moment's notice, but for what it's worth the game's cards and box art look quite nice. In The Librarians: Adventure Card Game, one to four players assume the role of one of the Librarians or an ally of the organization. Each player-portrayed character has its own strengths and weaknesses, as well as premade decks that can be customized as players see fit along the way. Here's some added info from today's announcement.
In this scenario-based game, each session takes you on a new adventure, telling a unique story where you'll face off against obstacles and enemies from the Librarian mythos. Success requires that you make thoughtful choices: Draw cards or gain the resources needed to play them? Thwart the plans of your enemies or advance your own goals? Actions are resolved by rolling custom dice that take into account your character's skill and the difficulty of the action. Cards may be discarded to manipulate the dice, giving players significant control over the outcome of their actions.
You can watch the Kickstarter announcement in the YouTube video below. Have you watched The Librarians? What do you think of that television show? From the looks of the card game, it appears quite intriguing overall. Let us know your thoughts and opinions in the comments below!