The Sims 4 Unveils Growing Together Expansion Pack
Looking to start a new family in The Sims 4? Electronic Arts has shown off the Growing Together Expansion Pack to make it happen.
---
Electronic Arts and Maxis have revealed details t the new expansion pack coming to The Sims 4 as the Growing Together Expansion Pack is on the way. The pack will basically give you more options to have your Sims start up a family with more in-depth gameplay when you have kids an infants, more interactions and dynamics, the chance to watch them grow, and even a new area to start a family in called San Sequoia. We have more info, images, and a trailer for the pack below, as the finer details can be found on their website. The pack will be released on March 14th, while having infant Sims in general will be a free update to the game that same day.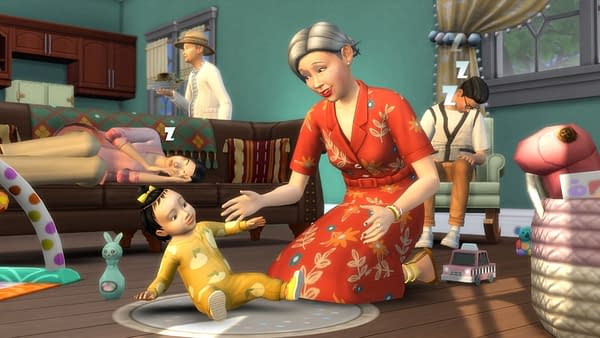 "There are plenty of new ways to interact with all the members of your family and lots of new content for different age groups. Most Sim Elders enjoy a good power walk around the park, a puzzle at the Recreation Center, or their role as caretaker of the family Keepsake Box. They're the best at Giving Life Lessons, Reminiscing on Good Times, and sneaking treats. Sometimes they even have a favorite grandchild! Speaking of grandchildren… Toddlers are getting quite the update in this pack. As with Infants, we are adding 18 discoverable Toddler Quirks that change a Toddler's behavior. These are discovered over time and make each Toddler unique, beyond their traits! Some examples include: Aggressive, Picky Eater, Early Riser, Little Singer, Good Appetite, Loves Water, Hates Bedtime, Loves being Carried and more."
"Children also are getting a lot of attention! For the first time, Children have received four new Aspirations: Slumber Party Animal, Mind and Body, Playtime Captain and Creative Genius. With all the new content for kids in this pack (the Treehouse, Splash Pad, Bike, Sleeping Bag, Slumber Parties, Friendship Bracelets, and more) there's plenty to aspire towards. Just make sure to keep their confidence high! Or don't, but we know you'd never hurt a child's confidence. Right. Riiight? Because just like lost teeth, Childhood Confidence is also an aspect of growing up that every Child Sim faces in this pack!"
"Our Growing Together Expansion Pack also includes a new social compatibility feature, which introduces new ways of socializing that will feel different with each Sim, leading to deeper, more meaningful relationships with family and friends. Maybe specific family members are jokesters together or maybe they are competitive. Your Sims' family tree will now reflect more complex family relationships. Your Sim will now have preferences that determine who they are socially compatible with and who are their sworn enemies! As your Sim experiences life, there will be opportunities for both drama and unity that will ultimately affect family dynamics and your Sims' relationships."