An interesting partnership has taken place between CD Projekt Red and Capcom this week, as Geralt from The Witcher comes to Monster Hunter: World. The news came down this morning on The Witcher's official Twitter page, showing off Geralt be thrust into the new world from a portal and none too pleased to be there.
Together with Capcom, we're presenting the crossover everyone's been waiting for: Geralt takes on a new contract in @monsterhunter World!

The Witcher-inspired content is coming to MHW on @PlayStation 4 and @Xbox One in early 2019 as a free update, with PC release to follow soon. pic.twitter.com/gQPBWmF9Al

— The Witcher (@witchergame) December 10, 2018
Meanwhile, Capcom announced at the same time that there is a massive new updating coming called Monster Hunter World: Iceborne. Here are a few more details about that content, as well as information for an end-of-year event which will present new challenges and costumes for multiplayer quests and hunts in The Appreciation Fest.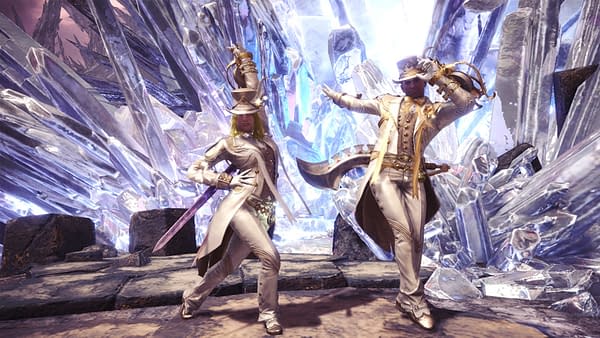 The content-rich Monster Hunter World: Iceborne will feature new quest ranks, locales, monsters, moves and gear in addition to a full narrative experience that continues on from the ending of Monster Hunter: World. The Monster Hunter: World base game is required for the expansion and is currently available across consoles and PC. More information on the expansion will be shared next spring. …

In the meantime, the Kulve Taroth Siege, a special event quest which allows up to 16 players in groups of four each to team up towards a common goal, will return on December 20. This time however, a tougher Arch Tempered version of this colossal monster which yields more powerful rewards awaits hunters. As another special thank you to hunters around the world, to mark a year since Monster Hunter: World launched we'd like to announce The Appreciation Fest, coming up on the anniversary of the game's release in January 2019. The Appreciation Fest will include a newly decorated Gathering Hub, special equipment that can be obtained in brand new quests and a slew of new anniversary quests for everyone.
Enjoyed this article? Share it!