The Witcher Arrives In Fortnite With An All-New Crossover Event
The Witcher has come to Fortnite as Geralt of Rivia is an unlockable character who comes with some new additions for your profile.
---
Geralt of Rivia has made his way into Fortnite today in a new crossover, making him unlockable in the Chapter 4 Season 1 Battle Pass. Starting right now and running over the next several weeks, players can take part in Geralt's Battle Pass Quests, upon which completing them will unlock his Outfit plus other items for you to add to your account. Page 1 of his Quests is available now, as we have more notes below for you to dive into. Meanwhile, Page 2 of his Quests will become available on February 28 when the devs release the v23.50 update.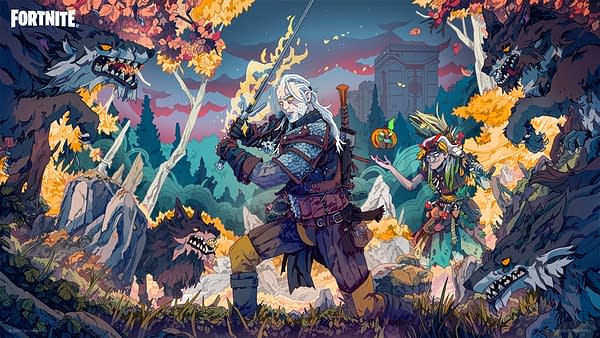 "Looking for even more Geralt of Rivia items? Start your training at the School of Llama to unlock a special Pickaxe, Lobby Track, Banner Icons, and more (no Battle Pass required)! Complete in-game tasks from the School of Llama website from today through March 11, 2023, at 4:59 AM GMT.
The Fortnite School of Llama challenges contain four paths; each will become available over the coming weeks.
As you progress through each path, you'll be challenged with in-game tasks that can be completed in Battle Royale and Zero Build. Finishing a task unlocks the next one until you reach an obstacle.
Upon reaching an obstacle, players will be presented with a creator-made island centered on a particular School of Llama sign.
Complete all creator-made islands and unlock the School of the Llama Emoticon!"
FORTNITE GERALT OF RIVIA QUESTS – PAGE 1
Complete all of the Page 1 Quests to unlock the Geralt of Rivia Outfit! The Page 1 Quests can be completed in any order.
ACTIVATE REALITY AUGMENTS IN 5 DIFFERENT MATCHES: They may not be elixirs, but they still do the trick. Unlocks the Geralt of Rivia Loading Screen.
COMPLETE 3 BOUNTIES: Nothing personal, just business. Unlocks the Muscle Memory Spray.
DEFEAT A BOSS: Only the greatest fools would threaten you. Unlocks the Weapons of the Witcher Back Bling.
EMOTE IN THE CITADEL THRONE ROOM: Pretend you're in Kaer Morhen. Unlocks the Igni Sign Emote.
DEAL 500 MELEE WEAPON DAMAGE TO OPPONENTS: Always finish the job. Unlocks the Witcher's Steel Sword Pickaxe.