The Pac-Man 40th Anniversary party keeps on rolling, and we're proud to show off this awesome extremely limited edition Pac-Man 40th Anniversary Quarter Arcades! These desktop-size machines are perfect for collectors, and the limited edition arcade signed by creator Toru Iwatani is the perfect item for all hardcore fans — or any hardcore gaming fan in your life (even if that fan is you). Only 256 units of this incredible collector's item are available. 256 is a significant number in the Pac-Man universe; it's how many levels are in the game! Each game will have its own unique numbered plaque and will retail for $349.00. That may seem like a lot, but you absolutely get your money's worth.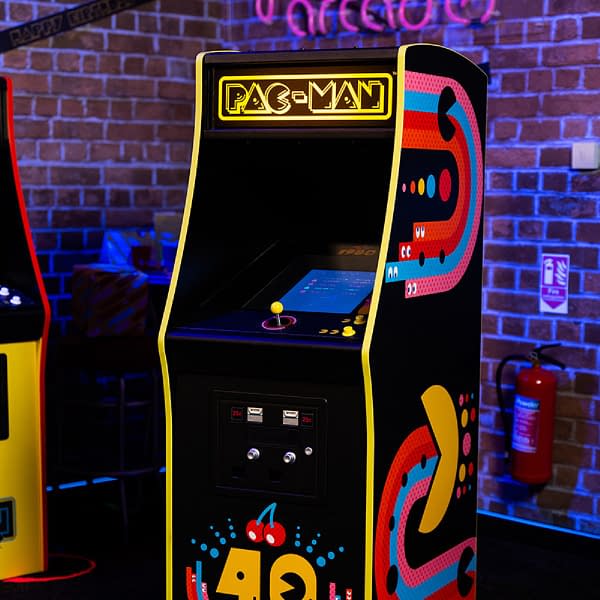 Looking for something more affordable and not as rare? The standard edition is perfect for you! The game is the exact same as the signed one, only it will be without Iwatani's signature and a numbered plaque. This version will only put you back $149.99. Both of these Quarter Arcades are a 1/4 scale replica of the original cabinet, measuring in at 16.92 inches tall by 8.27 inches deep, and they are 6.3 inches wide. They are fully playable, collectible, and make a great gift for yourself or a gamer you know. The joystick, buttons, and coin slots have also been scaled down appropriately. If you've always wanted an arcade cabinet of your own but don't have the space, this is absolutely perfect. Display it almost anywhere in your home — it makes an excellent conversation piece!
These awesome reproduction cabinets would go well with your brand new 40th Anniversary merch from Numskull, which we covered here! Will you be picking up one of these sweet, sweet arcade cabinets? Let us know in the comments below! Have a Pac-Man item you think we should cover? Send us an email — we can't help but love the little iconic character!
Enjoyed this article? Share it!