Days of Wonder, creators of board games such as Memoir 44 and Small World, has announced their plans for a print-and-play expansion for Ticket To Ride. This new expansion, known as Ticket To Ride: Stay At Home, will be available on Days of Wonder's website effective immediately.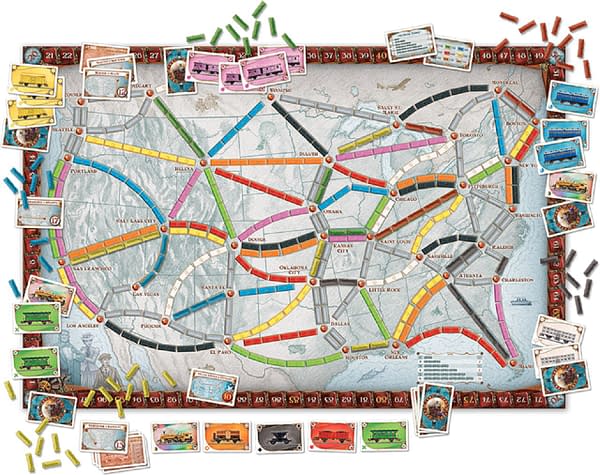 According to a press release made public today by Days of Wonder, this print-and-play expansion does require any game from among the original Ticket To Ride game, Ticket To Ride: Europe, or Ticket To Ride: Germany in order to facilitate any actual gameplay. You'll also want some scissors and adhesive tape.
From the Days of Wonder press release proper:
Like millions of players around the world, Days of Wonder's team is stuck at home during the lockdown trying to find a way to stay entertained and avoid eating six meals per day. That is why, in regard to this unexpected situation, we have worked on this very special project to allow you to have fun and evade reality without leaving your home! Today, we are pleased to announce the online release of Ticket to Ride: Stay at Home, a new, quick and free print and play version of the well-known board game Ticket to Ride. In this version, you will take the role of one of the four family members who compete and sometimes collaborate to complete their daily tasks in their home, which will guarantee some amazing family moments around the gaming table. Will you first try to go from your bedroom to your desk for some paperwork, or would you rather take a detour by the fridge and spend some time on the balcony?
The game can be downloaded here. As a direct response to the absolute mundanity of staying inside during the COVID-19 pandemic, this seems like an ingenious way to make proper light of the situation, from the perspective of those in lockdown or quarantine. But what do you think of this game idea? Is it sound? Is it flippant? Is it everything you'd wish from a game company during these times? Let us know your opinions in the comments below!
Enjoyed this article? Share it!