Tonight Is Virizion Raid Hour In Pokémon GO: December 2022
Tonight, Wednesday, December 6th, is Virizion Raid Hour in Pokémon GO. From 6 PM–7 PM, most Gyms in the game will pop Tier Five raids featuring the Grass/Fighting-type Legendary Pokémon. This is the first of three Raid Hours featuring the Swords of Justice with Terrakion coming next followed by Cobalion. Then, the month will close out with a Kyurem Raid Hour. Today, let's take a look at some tips for tonight's Virizion Raid Hour in Pokémon GO.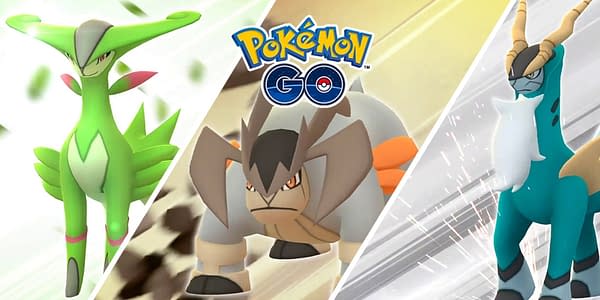 Power up your counters: If you have enough trainers in the lobby, you can certainly attempt to get through raids without investing Stardust into your Pokémon. However, the better bet is to use your hard-earned Stardust to better your Pokémon and strengthen yourself as a Trainer. Also, ensure that they have the correct moveset using Bleeding Cool's Virizion Raid Guide for Pokémon GO players.
Note Virizion's double weakness: Virizion is a Grass/Fighting-type, and both of those typings are weak to Flying-types. That means Virizion has a double weakness to Flying-types. Because of this, prioritizing your Flying-type encounters over other Pokémon to which Virizion has a single-weakness to like Fire-types is the best bet. My advice is to also Mega Evolve your Pidgeot to increase the effectiveness of other Flying-types in the raid battle.
Shadow Pokémon: If you have Shadows on hand, the best to use are Shadow Moltres (the overall top counter when using Flying-type moves), Shadow Staraptor, Shadow Honchkrow, Shadow Ho-Oh, Shadow Mewtwo, and Shadow Zapdos.
These are the Pokémon that will appear in Tier Five raids in Pokémon GO this December 2022:
December 1st – December 8th, 2022: Virizion
December 8th – December 15th, 2022: Terrakion
December 15th – December 23rd, 2022: Cobalion
December 23rd – January 1st, 2023: Kyurem
The Raid Hours for the month of December in Pokémon GO are:
December 7th, 2022: Virizon
December 14th, 2022: Terrakion
December 21st, 2022: Cobalion
December 38th, 2022: Kyurem