Today, Twitch has announced a new exclusive to their service as they've partnered up with Streamlabs to add subscription face masks. These are special AR masks that will pop up when people subscribe to a channel at a certain level, if they're activated by the streamer to use the extension. You can even use bits to activate the masks if you're already subscribed or just choose not to subscribe to Tier 2 or 3 levels. There are 26 different masks to choose, from, which you can see some of them below. Here's a little more detail from the press release sent out this morning.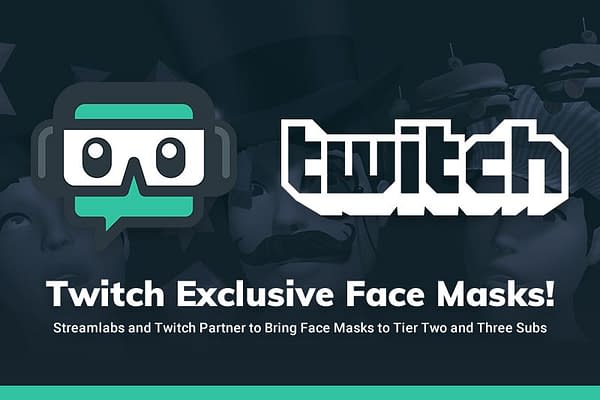 Once the streamer installs the Face Masks Twitch Extension, a viewer can apply an exclusive Twitch Face Mask using a variety of methods:

1. Become a Tier two or three subscriber: Tier two and three subscribers will unlock up to 24 Face Masks (12 for each tier). Viewers can apply a Face Mask when they first subscribe, resubscribe, or use Bits.

2. Use Bits: Tier two and three subscribers will have access to all of the Face Masks they have unlocked from their subscription for the entirety of their subscription term. Two Twitch exclusive Face Masks are available for free to all users when sending bits regardless of their subscription status. One mask will be available for free regardless if a viewer is donating through the streamers Face Mask donation page or sending Bits through the extension.

"Creating new ways for streamers to interact with their audience and monetize their channel is no easy task," said Ali Moiz, CEO of Streamlabs. "Twitch provides a stable foundation for streamers and the industry as a whole to grow. As such, we are thrilled to expand Face Masks in new and innovative ways to bring more value to creators and their communities."

"We're pleased to partner with Streamlabs to give our streamers' most dedicated fans unique ways to play a role in creating the moment," said Amir Shevat, VP of Product, Developer Experience at Twitch.
Enjoyed this article? Share it!