Yesterday, Twitch officially announced that tickets have gone on sale for TwitchCon 2018, which this year will be held in San Jose, California. The San Jose McEnery Convention Center will play host from October 26th-28th, which will include the usual cavalcade of streamers, tournaments, vendors, and other activities. Right now, the three-day package will run you $180 with various prices for single day tickets and other combinations.
Below is a sampling of some of the events they'll be planning this year, as per their press release.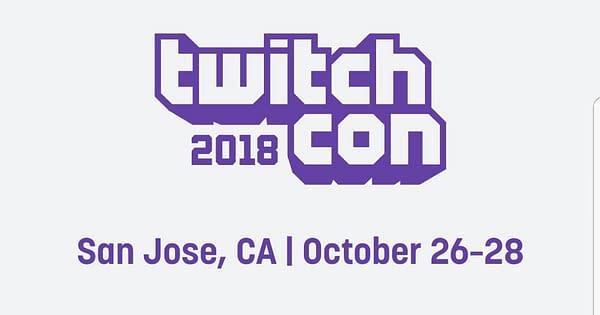 Among the many activities and experiences coming to TwitchCon 2018 are the following:

TwitchCon Ambassador Program: What makes TwitchCon special is the creators and communities from all corners of Twitch who bring distinct ideas and perspectives to the convention. To showcase some of the unique and diverse talent in attendance, Twitch is introducing the TwitchCon Ambassador Program. Comprised of 15 Twitch Partners, the Ambassadors are involved in a number of activities before and throughout TwitchCon, including panels, stage content, Meet and Greets, and more. Attendees are encouraged to hear the Ambassadors' stories and gain new insights and skills from their experiences. The TwitchCon 2018 Ambassadors are: Avajaijai, Data_Dave, DeejayKnight, DistractedElf, djarii, Elspeth,EXBC, Gibson, pokimane, Sequisha, Skybilz, ThatBronzeGirl, UmiNoKaiju, Wish, and Xmiramira.
Artist Alley, formerly Creative Corner, will once again designate an area where Twitch artists show off and sell their pieces to attendees. Creative streamers who want to display and sell their products still have time to apply for space.
TwitchCon Cosplay Contest is coming back and looking for cosplayers to compete in four categories (Needlework, Armor, Larger Than Life, and FX) with a prize pool of more than $70,000.
Panels and Sessions are a TwitchCon staple with dozens every year that educate and entertain attendees. Call for Content is currently open with submissions being accepted until

July 16

.
Expo Floor: The TwitchCon Expo Floor is where attendees can get hands-on with the latest games and gaming products with the amount of exhibitors growing year over year.
TwitchCon Charity Plaza, in partnership with Tiltify, returns for the fourth consecutive year. Tiltify, the popular platform for content creator fundraising, will feature over 10 charities on the convention showfloor and on a featured live stream. The TwitchCon Charity Decathlon will also return with over 150 Twitch personalities representing the participating charities in a series of gaming, creative, and musical contests in order to become the TwitchCon Charity Decathlon Champion of 2018. In 2017, over $117,000 was raised for the 10 participating charities, with a goal to raise even more this year. Follow the Tiltify blog for when additional details are announced.
Games Done Quick (GDQ) makes its TwitchCon debut with GDQ Express, a 50-hour speedrunning marathon benefiting charities taking place in TwitchCon Charity Plaza. GDQ will begin taking participant submissions on

July 8-July 14

.
Developer Day: The second annual, one-day event happens at the Marriott San Jose on

October 25

, the day before TwitchCon. Developers and industry leaders will come together to share best practices on building interactive, shared, real-time experiences on Twitch through game integrations, Extensions, and more. To learn more and to request a ticket, visit the Developer Day website.
Enjoyed this article? Share it!