Today during Ubisoft's E3 presentation, the announcement was made that a new multiplayer mode called Breach is coming to For Honor along with a new faction of warriors in The Marching Fire.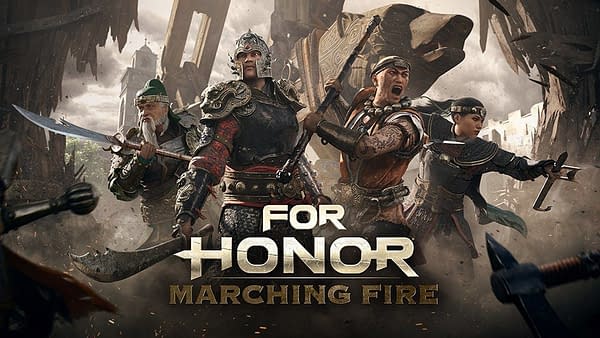 A new faction of warriors is entering For Honor's fray this October, and they're bringing the biggest-ever For Honor update with them. The Marching Fire update arrives on October 16, introducing a new faction from China, the Wu Lin, who add four new Heroes to the current roster of 18. And that's only the beginning – Marching Fire also adds a new 4v4 multiplayer mode, Breach, which lets players take part in a full-on castle siege. A sizable raft of other improvements and additions are on the way as well, including graphical enhancements and a new mode featuring unlimited PvE content, which will be fully unveiled at a later date.

Leaving their homeland to escape a civil war, the new Heroes add Chinese-influenced weapons and fighting styles to the mix. The Tiandi, Jiang Jun, Nuxia, and Shaolin also come replete with individual names and backstories, establishing them as characters instead of just warrior archetypes. While they'll initially be exclusive to a paid bundle that will be detailed later, all four Wu Lin Heroes will be available for purchase with Steel, For Honor's in-game currency, once the exclusivity period is over. The paid bundle will also feature a new, unlimited PvE mode, which will be detailed at a later date.

The new multiplayer mode, Breach, will be free to all players at launch, and adds three new, Breach-exclusive maps. Pitting two teams of four against each other, the new mode simulates a full-blown castle siege, with the attacking team escorting a battering ram while the defenders try to destroy it and keep enemy attackers at bay. Also free are a host of new updates, including improvements to graphical textures, lighting, and sky gradients, as well as an updated matchmaking interface and a speech realization system to inject more personality into the Heroes.

Marching Fire launches October 16 on PS4, Xbox One, and PC, bringing players the biggest For Honor update since launch. If you'd like to get in on the action and get a few months of experience before it hits, the Starter Edition of For Honor is free on PC via Uplay from June 11 to June 18. Additionally, all other digital PC and console versions will be on sale for up to 75% off until June 17 (Xbox One), June 18 (PC), and June 19 (PS4).

For Honor is now available on PS4, Xbox One, and PC. For more, check out our previous For Honor coverage, and stay tuned for more updates from E3.
Enjoyed this article? Share it!