Ubisoft Announces New Star Trek Bridge Crew Expansion with Next Generation
Today, Ubisoft announced a brand-new expansion on the way for Star Trek Bridge Crew, as the game will be headed into Star Trek: The Next Generation territory with the Enterprise-D, Borg, Romulans, and more. The game will be adding two new crew members in tactical and helm/operations for you to choose from to take command on the bridge that Piccard built, as well as a new option for the captain's chair.
The new expansion will give you the classic LCARS panels to work with, which won't be too different than the ones you've managed on the 2009 Enterprise bridge, and you'll be getting a new game feature mentioned in the summary below. The new DLC will run you $15 as it will come to PSVR first on May 22nd, and PC on July 21st with support for HTC Vive, Oculus Rift, and Windows Mixed Reality.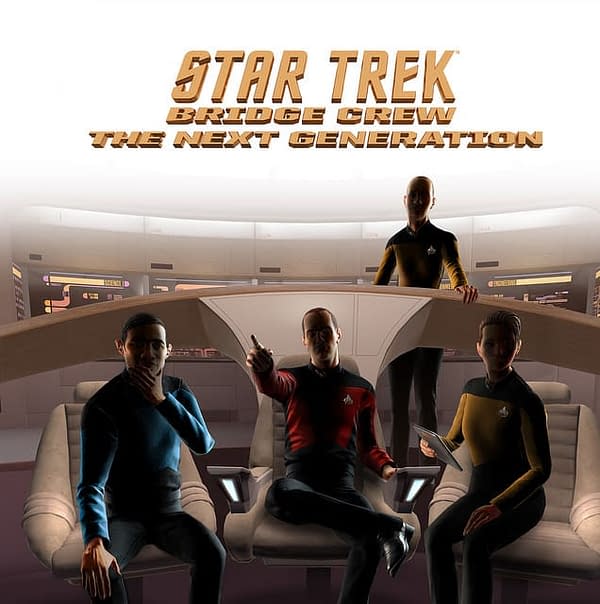 Additionally, The Next Generation introduces iconic adversaries in the stealthy Romulans and the powerful Borg, and sees players taking part in two new mission types — Patrol and Resistance. In Patrol, players are free to roam the galaxy while exploring random encounters and answering distress calls for hours on end. Resistance mode offers more frenetic gameplay, as you and your crew are chased by the seemingly unstoppable Borg Cube and must collect three prototype ship modules before you're able to face the Borg head-on and expect any chance of success.

The Ubisoft News team recently had the chance to get behind the wheel of the Enterprise as we (unsuccessfully) attempted a Resistance mission in the hopes of taking out the formidable Borg Cube. Since each of us experienced the encounter in separate roles, including the new Operations role, we'll run you through each of our experiences.