Ubisoft Unveils Operation Void Edge For "Rainbow Six Siege"
During the Six Invitational 2020, Ubisoft showed off the game's two newest operators and reworked map for Operation Void Edge in Rainbow Six Siege. This time around we get a look at Iana who can create a hologram version of herself to fool opponents and do some recon work on the attack, while Oryx can rush through walla and opponents as well as climb up hatches on defense. The two of them join a reworked Oregon map that basically has been widened and given more space for intense combat. The devs also added a few more features like a debris replication tweak, changes to drone spawn locations, and changes coming to a couple of other UI aspects of the game. The content will drop on the test servers on February 17th. For now, you can read up more about it below, as well as check out the official trailer Rainbow Six Siege for it.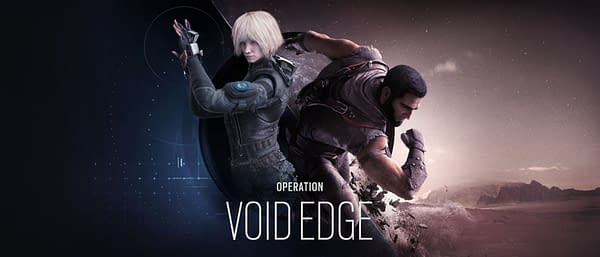 Dutch Attacker Iana and Jordanian Defender Oryx are the two new Operators coming in Operation Void Edge. While studying for her systems engineering doctorate, Iana pioneered topographical mapping software that allowed her to generate a holographic representation of herself that she can command with her Gemini Replicator. Once she activates her hologram, she directly goes inside and can control it. It can move and produces sound like she would, but it obviously cannot shoot, melee or use secondary gadgets.

Oryx is the unofficial second-in-command at Kaid's Fortress, maintaining it during his absences, as well as acting as his trusted advisor. Oryx is a heavily trained Operator that does not use a gadget: his Remah Dash has more than one application. Its speed allows him to roam efficiently and cover short distances with unprecedented swiftness. It can also be used to knock down opponents or dash through breakable walls but Oryx will lose health. Finally, Oryx is also able to climb up hatches, giving him a significant tactical advantage over its opponents.