Remember how people really didn't like that one DLC content ending in Assassin's Creed Odyssey? Don't worry, it's going away tomorrow. According to Eurogamer, the ending will be edited to give you a different option than the ones you didn't like beforehand.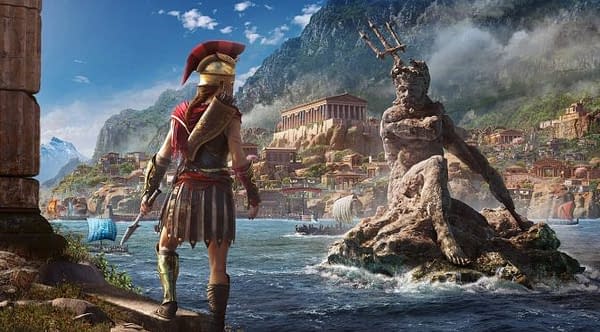 What exactly has changed? Well, not much. In the boat leaving scene at the end of the episode the option to make Darius and his offspring stay is now labelled with a heart icon, indicating this is a romance option. If you don't pick it, the cut-scene you get is now edited very slightly to remove one shot of you and Darius' offspring embracing. Finally, the conversation option after the reveal you have had a baby now lets you state "I chose this life to secure the bloodline".
Originally, the game forced you into having a particular romance and a baby, which pissed off so many gamers at the idea that this bold woman warrior was pigeonholed with motherhood and a husband, even if they chose to roleplay her as gay, or sought out no romantic options throughout the game. Or hell, even if they had no interest in the man they have chosen to be her partner at the end. Now you have a slightly adjusted ending with options, but we're a little curious after having the ending out as long as it has, will players actually go back and replay the DLC just to have an alternate ending, or has the damage been done?
Enjoyed this article? Share it!