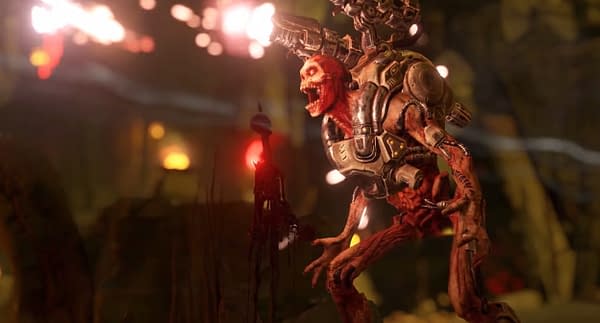 It's the right time to be damned, as Bethesda has announced that Doom is not only getting a 6.66 update, but a new price, free DLC, and more. Doom is now available for digital purchase for $14.99, and all of its DLC (including nine maps, three guns, etc.) is now free. This is actually fantastic news for gamers, as the most annoying DLC are the map and gun expansion packs.
The update itself changes the equipment unlock system, resets veteran players to level 0 (although you can keep your equipment), adds a new runes system that replaces the Hack Module system, and some other, more basic changes.
Meanwhile over at Square Enix, there's a massive Tomb Raider bundle for you to pick up for $25.00 through the GameChanger charity.
This July marks the 25th anniversary of Crystal Dynamics, the studio behind the critically acclaimed Tomb Raider franchise which has sold over 58 million copies globally.  In celebration, the studio has organized a series of charitable events and activities that takes us on a trip down memory lane, commemorating Crystal's 25 years of producing unforgettable experiences.
Starting today, Square Enix and Crystal Dynamics are offering an exclusive Crystal Dynamics 25thAnniversary game bundle through GameChanger. Patrons who donate $25 or more will receive this exclusive bundle of 12 new and classic Crystal Dynamics games, including Tomb Raider, Lara Croft® and the Temple of Osiris, Legacy of Kain: Defiance, Project Snowblind, and more. Funds raised will be given to GameChanger Charity and support their mission of bringing happiness and gaming to children facing life-threatening illnesses in hospitals around the world.
"The collaboration of our top industry talent all focused on creating ground-breaking, unprecedented gaming experiences is the engine that drives Crystal," said Ron Rosenberg, Co-Head of Studio at Crystal Dynamics. "We're extremely proud of all that we've accomplished over the last twenty-five years, and, as we look to the future, we are excited to bring our passion and craftsmanship to even more games including the 'Avengers' project."
Enjoyed this article? Share it!